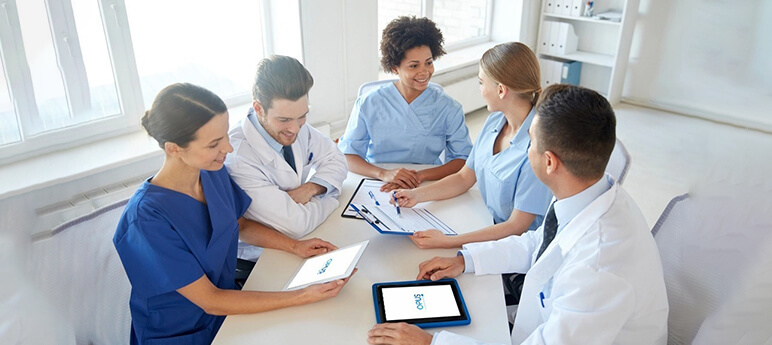 Leading Multi-Facility Care Counseling Company Upgrades to Advanced Solutions EHR to Improve Efficiencies and Expand Operations
(Miami, FL) Opus EHR, a leading provider of electronic health record (EHR) platforms and billing services for behavioral health treatment centers and mental health organizations is proud to announce that CARE Counseling, one of the largest multi-facility outpatient organizations of Minnesota, has selected Opus EHR as their solutions partner to streamline their operations. Opus EHR, cutting-edge technology is designed to improve efficiencies, support growth and streamline operations. Opus EHR's state-of-the-art technology will allow CARE Counseling to provide even better care for their patients.
"We are thrilled to bring this advanced EHR system to our facilities," said John Hutchinson, COO and President of CARE Counseling. "Our goal is a great clinical experience leading to the highest client quality care possible. We believe Opus will continue to improve our operations, and their new technology will help us achieve that goal by giving us more efficient, accurate, and secure access to patient information."
Multiple factors led to CARE Counseling's decision to go with Opus EHR, including the ability to streamline the practice's operations, providing quick real-time access to actionable data, and built-in analytics to data insights and revenue cycle management automation tools. The system's configurability streamlined and easy-to-use interface, robust billing engine, modern interface, and capabilities for integrated data analytics helped influenced their decision.
"We understand the importance of treatment centers needing to secure data and have efficient processes in place so they can continue to provide the utmost patient care with the peace of mind that their information is protected," said Trey Wilson, CEO of Opus EHR. "We are grateful that CARE Counseling entrusted us to be their solutions provider and will work side by side with them to equip them with all they need."
Opus EHRs unique platform provides CARE Counseling the ability to:
Have full access to all data analytics for demonstrating improved outcomes for more informed decisions resulting in better treatment planning.
Offer patients a more convenient and accessible way to manage their own health information through a secure portal.
Allow patients to communicate with their healthcare providers and manage their appointments all from the convenience of their own devices.
Configure their EHR to meet unique workflow needs without costly customization.
Utilize consumer engagement tools, including appointment reminders and a client portal that offers seamless connectivity.
Access multiple templates of reporting tools and customization options for real-time data insights.
Use Business Intelligence tools to provide real-time dashboards to measure Key Performance Indicators (KPIs) and patient treatment outcomes.
"At CARE Counseling, we are proud to provide high quality, client-centered, outpatient mental health services including therapy, psychological testing, and medication management. We needed a highly configurable and user-friendly system to ensure we have the operational structure needed to move in the growth direction we are focused on. With increased demand and long wait times for outpatient mental health services at other agencies we are dedicated to providing same-week availability to our services. Our commitment to our clients, as well as our providers, is at the forefront of everything we do," said Jennifer Gozy, Psy.D., LP, Clinical Director, CARE Counseling. "Implementing the Opus EHR system will allow us to continue providing the best possible care to our clients while improving our operational efficiencies, enabling us to focus on growing our operations so we can serve more members of our community."
"We take pride in our technological advancements. As the demand for new features arises, we are at the forefront to deliver our standard of excellence to CARE Counseling clinics," said Wilson.
"Looking ahead, we know that quality care is going to come from providers who are well cared for, having technology which allows team members to efficiently practice without the worry of regulatory missteps in an environment that allows for better collaboration and communication internally and externally was an easy decision. CARE also chose Opus EHR as it has the best solutions to support our phenomenal growth and exemplary care while taking care of our back office by ensuring our Revenue Cycle Management, Administrative, Finance, and Marketing Teams are reacting to and managing from the best and most immediate information available" stated Hutchinson. "We know technology is key to improving patient care and supporting long-term growth," stated Hutchinson. "This investment in Opus EHRs advanced solutions will help us continue delivering the high-quality care that our patients deserve."
About Opus EHR
Opus EHR is a complete clinical solution that is more effective than other options on the market, providing solutions for inpatient and outpatient behavioral health treatment centers. With everything in one place, Opus helps optimize the continuum of care – intake, admissions, billing, revenue cycle, clinical and medical management processes – all in a secure and HIPAA-compliant environment. As a result, the care team stays in sync to achieve higher reimbursements and better outcomes. For more information about Opus EHR, visit www.opusehr.com
Media Contact
Ashley Gerchikov
Director of Marketing
Opus EHR
Ashley@opusbehavioral.com