Role: Clinical
Document Review
Save time by navigating through your team's clinical documents –all in one place. Every clinical note, group progress note, and treatment plan is easily reviewed, revised, and signed in one location, with just one click.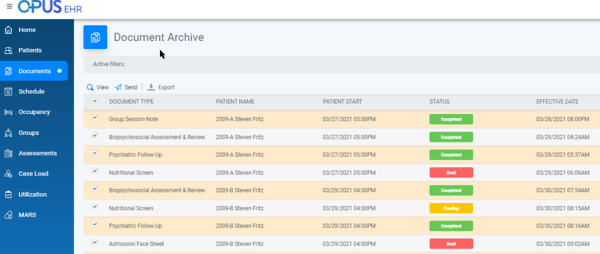 Eliminate the hassle of chart auditing and concisely navigate through the patient EHR.
Case Load
Quickly assign new patients to your team members, track assigned tasks and due dates, and customize alerts to ensure work is completed on time.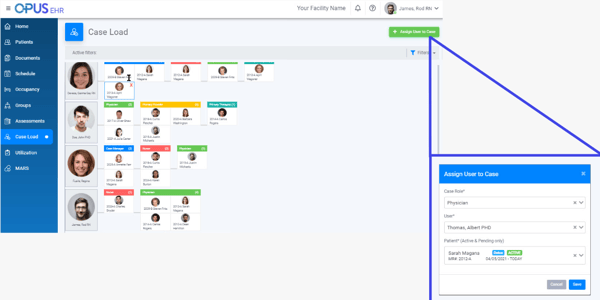 Help your team manage their time and tasks effectively.
Group notes made simple
Remote sign-in for group members, batch group note creation, and access to customized, group curriculum. Breeze through group progress notes, track clinical hours, and access your unique curriculum with our Group Progress Note feature.
Improved quality of documentation
Ensure no vital information is missed with our real-time, automated prompts for the writer. Better quality documentation, fewer errors.
Whatever your strategy, Opus EHR equips you to succeed.
Your process. Better results.
Role: Operational
Insightful KPIs at a Glance
See your scheduled intakes and discharges, distribution of patients per level of care, upcoming due dates for your team, and monitor AMA rates on your dashboard.
Integrated Internal Utilization Review
Conduct and track insurance reviews from a single interface. One-click access to relevant patient documents. Assign coverage days and manage insurance authorizations. No longer necessary to use a third-party UR company.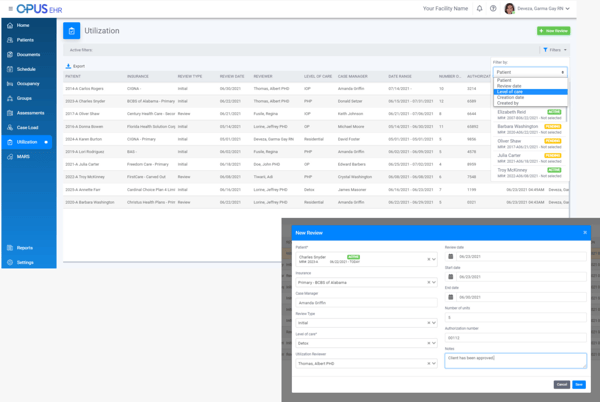 Business Expansion Potential
Manage every level of care, every department, every task, with one platform. Add features to your OPUS EHR suite as you grow.
Whatever your strategy, Opus EHR equips you to succeed.
Your process. Better results.