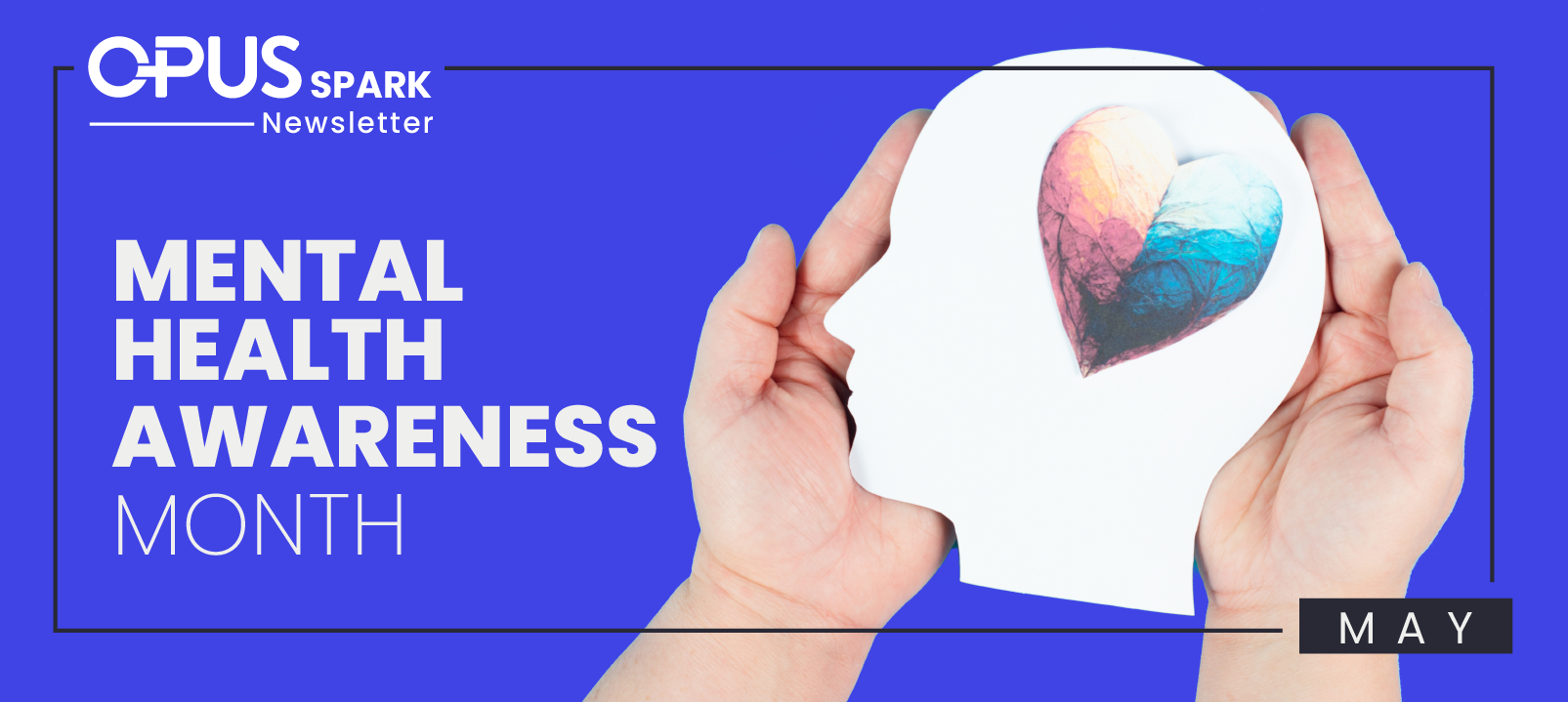 Opus Spark May 2023
CEO's Message
May is Mental Health Awareness Month, and at Opus EHR, we are proud to be a part of the conversation surrounding the importance of mental health. This month, we take the opportunity to raise awareness and support those who struggle with mental health issues.
As a behavioral health technology company, we understand the significant role that mental health treatment providers play in our communities. Their work is critical, and we are dedicated to supporting them with the best tools and resources available. We aim to ensure that every provider can access the latest technology and innovations to better serve their clients and patients.
At Opus EHR, we believe that mental health is an essential aspect of overall health and well-being. We are committed to working together with our clients and partners to create a world where everyone feels supported and empowered to prioritize their mental health. Seeking help for mental health issues is a sign of strength, not weakness, and it is vital that we break down the stigma surrounding mental health.
This Mental Health Awareness Month, let us work together to raise awareness, support those who struggle with mental health issues, and create a world where everyone feels safe, supported, and empowered to prioritize their mental health.
Trey Wilson
Chief Executive Officer
Opus EHR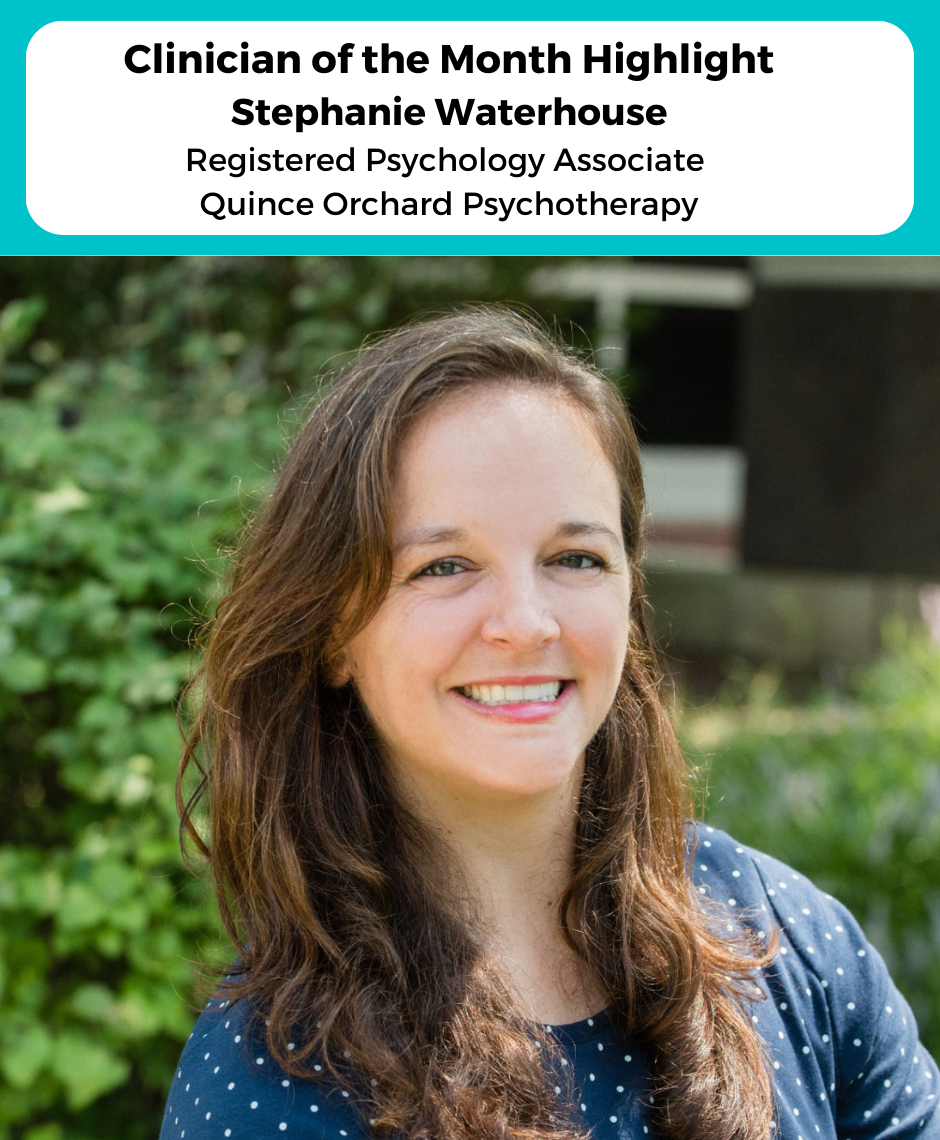 Meet Stephanie Waterhouse, the outstanding Psychology Associate at Quince Orchard Psychotherapy who has been named Clinician of the Month by her manager. Stephanie is a phenomenal testing clinician who provides exceptional and appropriate care to her patients. She has helped numerous young adults and adults gain clarity around their diagnosis, including those with severe mental health concerns that require hospitalization or intensive care.
After eight years of working in the government sector, Stephanie found her calling in mental health. She obtained a Master's degree in Counseling Psychology from the University of Louisville and worked at a community mental health clinic providing individual and group therapy services to adolescents and adults. From there, she moved on to work in a maximum security women's prison in North Carolina, serving nearby male prisons as needed. Today, Stephanie works as a Registered Psychology Associate with Quince Orchard Psychotherapy LLC, conducting psychological evaluations and providing individual therapy services to adults.
Stephanie's passion for continuous learning keeps her in a perpetual state of growth. She brings a unique perspective and a sense of humor and is unafraid to voice her opinion professionally. In one notable instance, Stephanie worked with a challenging client who had seen multiple clinicians in the past. Apart from tackling the client's mental health concerns, Stephanie also worked with the family to eliminate external stressors, resulting in a remarkable decrease in the client's mental health needs and tangible progress toward independence.
Stephanie is nothing short of phenomenal, and her well-rounded experience in mental health and advocacy makes her a valuable asset to any team. When she is not changing lives, you might find her enjoying street tacos, homemade tortillas, brisket, or queso because she is a native Texan!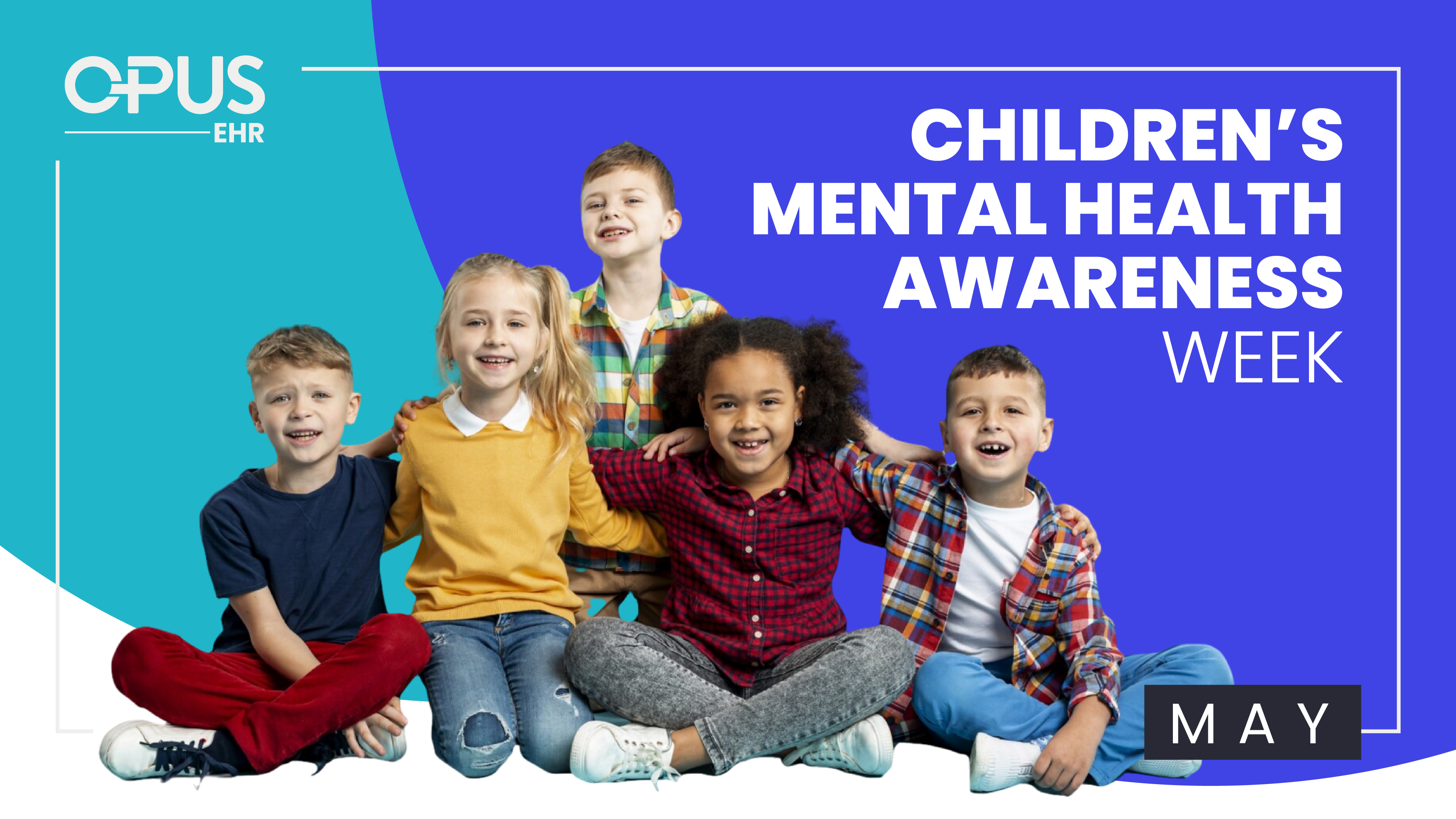 It's Children's Mental Health Awareness Week, and now is the time to shift from awareness to acceptance of mental health challenges in youth. It's not enough to just be aware; we need to embrace and provide support for those struggling with mental health issues. Treatment centers and therapy are crucial resources that can help children and adolescents develop healthy coping mechanisms and habits.
Did you know that 1 in 5 children in the US has a diagnosable mental health disorder? This means it's more important than ever to provide the necessary tools and resources to support their mental health. Opus EHR is an Electronic Health Record (EHR) software designed to meet the unique needs of adolescent mental health treatment centers and their clients. Learn more here.
Remember, parenting can be challenging, especially when your child is struggling with mental health issues. But with the right support, you can help your child thrive. Let's work together to embrace and support our youth's mental health. Here are some tips to help parents support their children who struggle with mental health:
Educate yourself: Learn about your child's mental health condition. This will help you understand what they are going through, what triggers their symptoms, and how you can best support them.
Create a supportive environment: Creating a safe and supportive environment at home can be crucial to a child's mental health. Ensure your child knows they are loved and supported and encourage them to talk about their feelings.
Encourage communication: Encourage your child to communicate their thoughts and feelings, which can help them develop coping mechanisms and feel more comfortable expressing themselves.
Seek professional help: Consult with a mental health professional who specializes in working with children and adolescents. A mental health professional can provide your child with tools to manage their symptoms and help them develop healthy coping mechanisms.
Practice self-care: It's essential to take care of yourself as a parent. Practicing self-care, such as taking breaks, exercising, and connecting with others, can help you manage stress and support your child better.
Encourage healthy habits: Healthy habits such as exercise, a balanced diet, and regular sleep. These can help your child manage their symptoms and improve their overall well-being.
Be patient: Recovery takes time, and setbacks may occur. Being patient and supportive during your child's mental health journey is essential.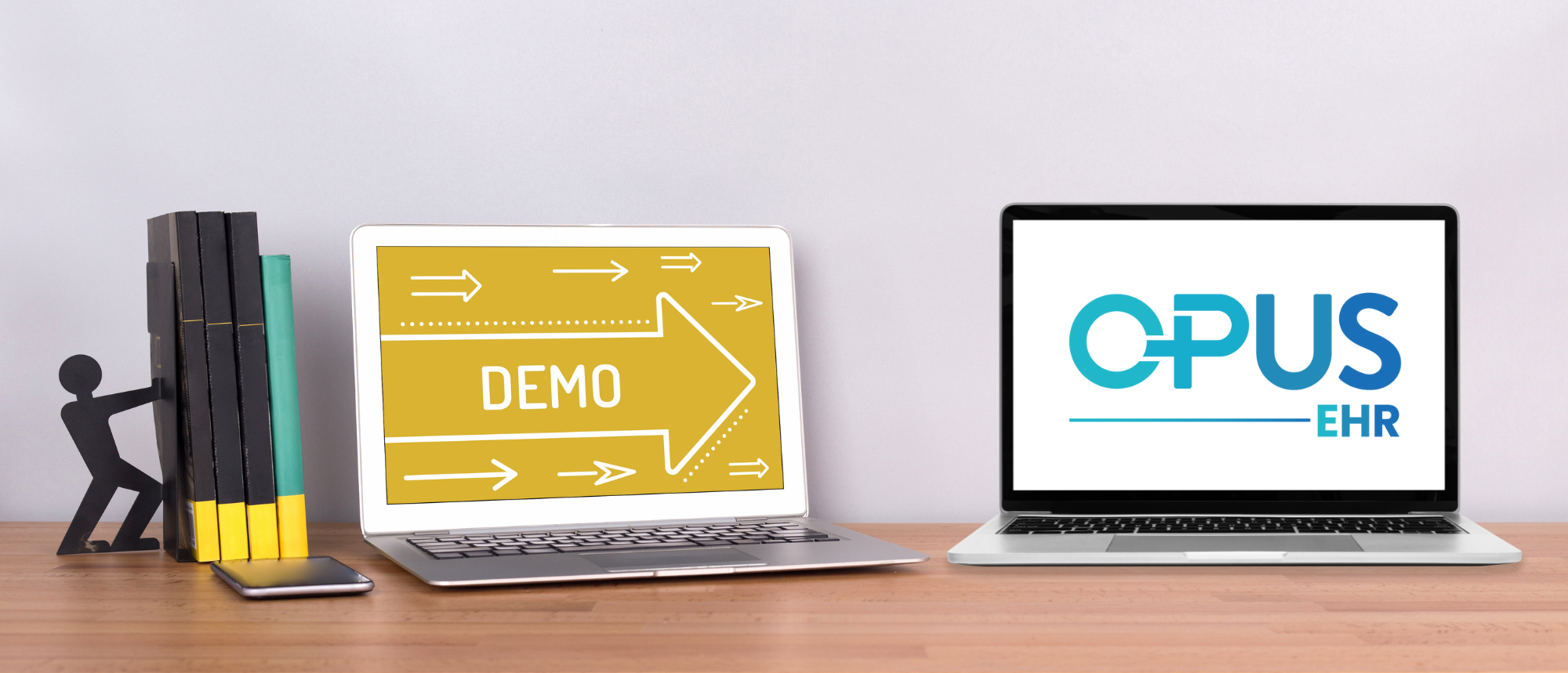 Opus EHR is committed to providing treatment centers with the right tools and features to streamline their processes and maximize efficiency. We understand the importance of saving time and resources, allowing treatment providers to focus on what truly matters—their clients and patients.
Our comprehensive system functionality is designed to optimize workflows and eliminate unnecessary administrative tasks. Opus EHR offers a wide range of features that cater specifically to the needs of treatment centers. From scheduling and patient intake to documentation and billing, our system provides a seamless and intuitive user experience.
One of the key advantages of Opus EHR is its ability to centralize all essential processes within a single platform. Gone are the days of using multiple systems or dealing with disjointed software. With Opus EHR, treatment centers can access all the necessary tools and functions through one integrated system. This centralized approach saves time and effort by eliminating the need for manual data entry and reducing the risk of errors or duplicated work.
We understand that seeing is believing, which is why we offer a demo of Opus EHR. Our demo allows you to witness firsthand how our system's functionality can revolutionize your treatment center's operations. During the demo, you'll have the opportunity to explore the various features, witness the time-saving capabilities, and gain valuable insights into how Opus EHR can benefit your organization.
We encourage you to schedule a demo and see for yourself how Opus EHR can transform your treatment center. Our team of experts is ready to guide you through the demo, answer your questions, and provide tailored information based on your specific needs. Discover the power of streamlined processes, increased efficiency, and improved patient care with Opus EHR.
To schedule a demo and learn more about our time-saving features, visit www.opusehr.com and take the first step toward enhancing your treatment center's operations with Opus EHR, or watch the live demo here.
Let Opus EHR be the catalyst for increased efficiency, improved patient outcomes, and a better experience for both providers and clients. Schedule your demo today!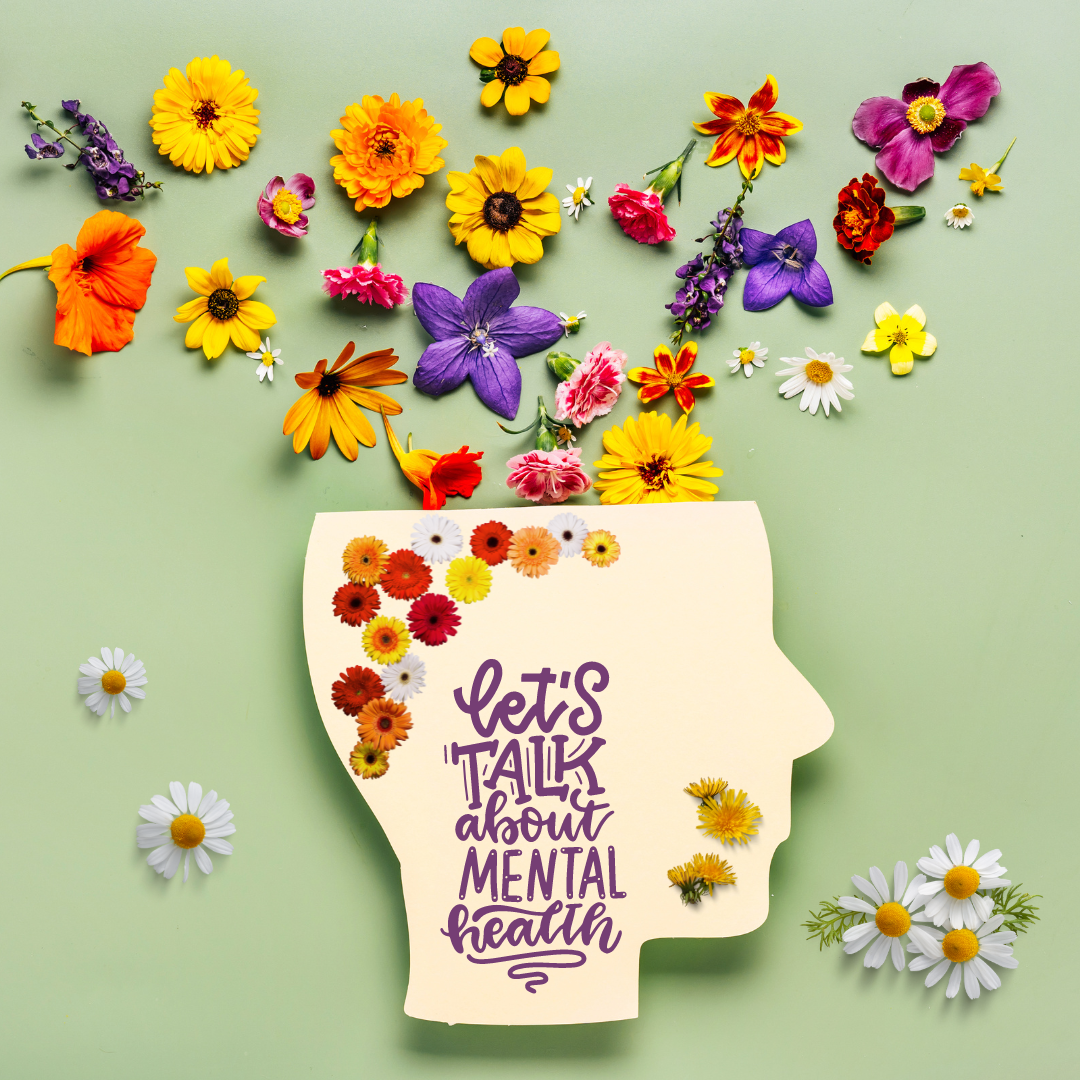 Excited to announce our Mental Health Awareness Sharing Stories event! We believe that sharing mental health stories and experiences is a powerful way to break the stigma surrounding mental health and bring hope to others.
In this virtual event, we'll be providing a safe and supportive space for anyone who wants to share their story by filling out your entry with a video upload by Registering through this link!
Whether you're someone who has struggled with mental health or someone who has supported a loved one through their struggles, we want to hear from you. As a thank you for sharing your story, we'll be giving out gift cards to everyone who participates! We hope this encourages others to share their stories and continue the conversation about mental health.
Remember, you are not alone in your struggles, and sharing your story can inspire hope in others who may be going through similar experiences. Let's come together to break the stigma surrounding mental health and create a community of support and understanding.
Join us at our Mental Health Awareness Sharing Stories event and help us bring hope through story sharing.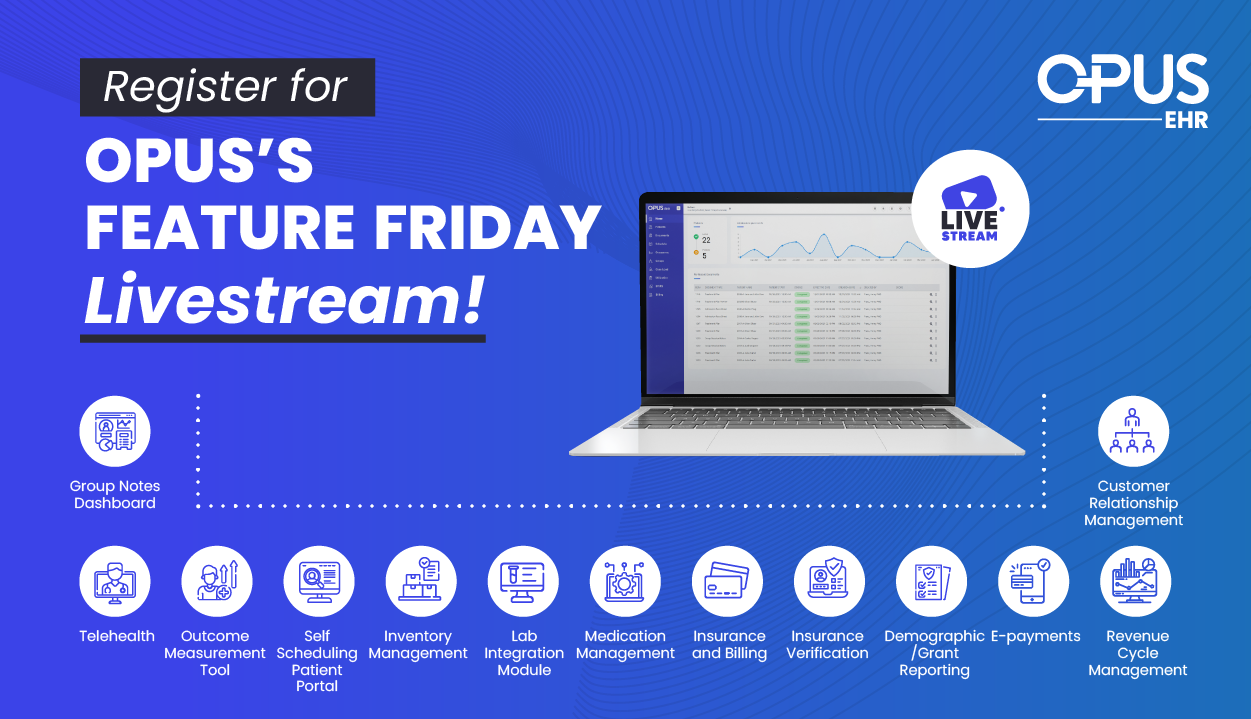 We are excited to invite you to our monthly Opus Feature Update event, where we dive into the latest updates based on client requests, upgrades, and what's new in the industry. Join us every 3rd Friday to stay informed and discover the cutting-edge features that can enhance your experience with Opus EHR.
Our next event is scheduled for this Friday, May 19th at 3:00 pm Eastern Time. During this session, we will provide in-depth insights into the latest feature functionality, ensuring you understand how to leverage these updates to their fullest potential.
In addition to the presentation, we have allocated a dedicated time slot for an audience Q&A session. This is your opportunity to address any questions or concerns you may have directly with our team. We value your input and are committed to meeting your needs, so we encourage you to share your inquiries and provide feedback on features you would like to see added to our roadmap.
Don't miss out on this valuable opportunity to stay up-to-date with the latest developments in Opus EHR. Mark your calendars and join us this Friday, May 19th, at 3:00 pm Eastern Time. To secure your spot, please register using the following link: https://www.opusehr.com/feature-friday
We look forward to connecting with you and providing you with the information you need to optimize your experience with Opus EHR. See you at the event!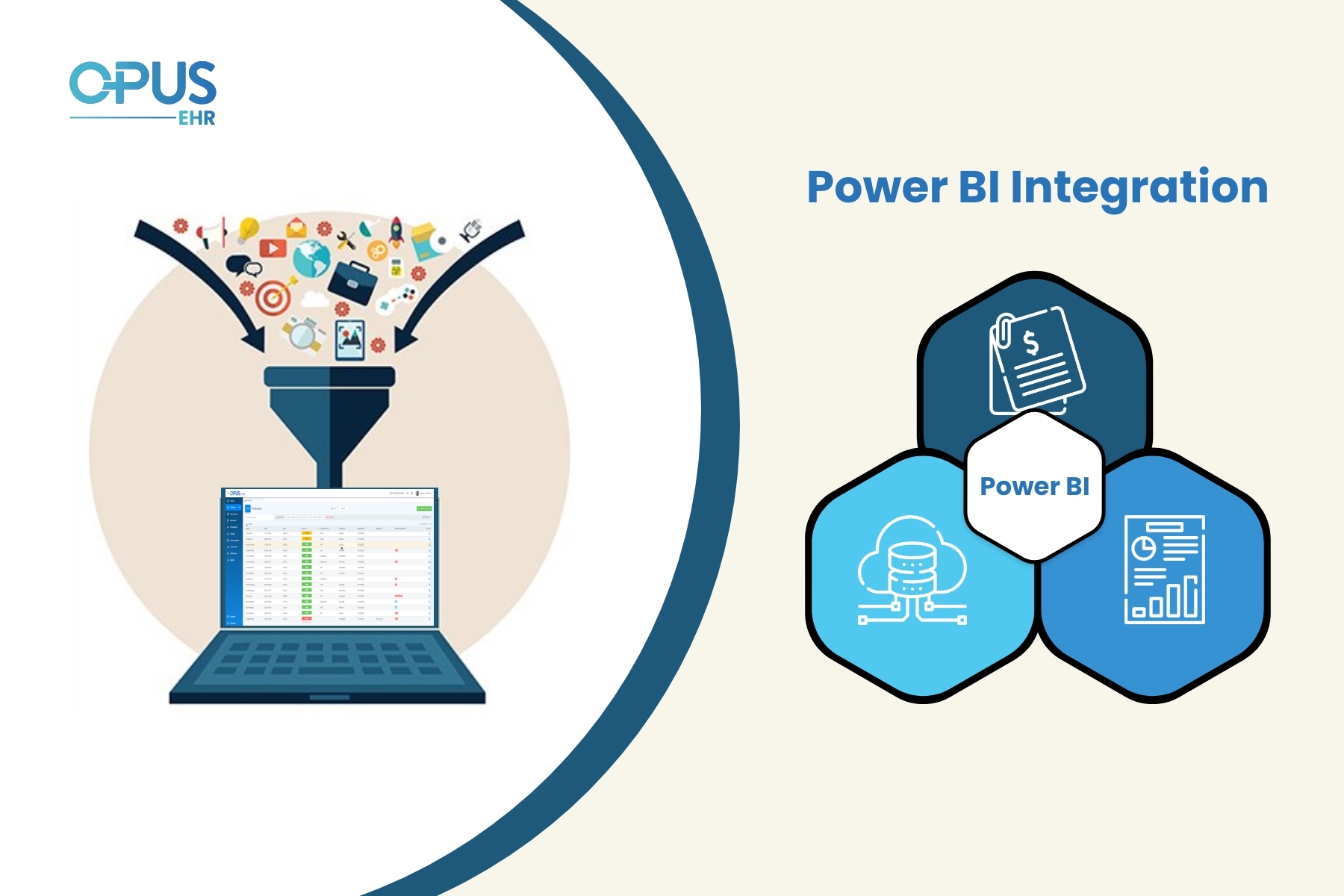 Say hello to limitless data possibilities at treatment facilities because Opus EHR is bringing you Power BI Integration! With this game-changing feature, decision-makers can finally make informed decisions for better organizational outcomes, bigger profits, and overall success. Power BI will bring you full transparency with reporting and maximum functionality and features in Opus EHR. You can now create dashboards that boast the most powerful data migration in the market. Behavioral health facilities are in for a treat as Opus EHR helps them win pricing and relationships by connecting client systems on the back end.
With Power BI, facilities will regain full leverage and control over all their data, running reports and doing data warehousing without relying on other systems. Opus EHR is giving you back the power to manage your data, so facility operators can make informed decisions that lead to success. The new Power BI Integration offers full data visualization to run reports and see all data on a single dashboard, along with provider productivity reporting and organization data insights. Get ready for a smooth journey towards better data management because Opus EHR and Power BI Integration have got your back!
Learn more about adding this feature to your operations by scheduling a consultation with our senior software specialists.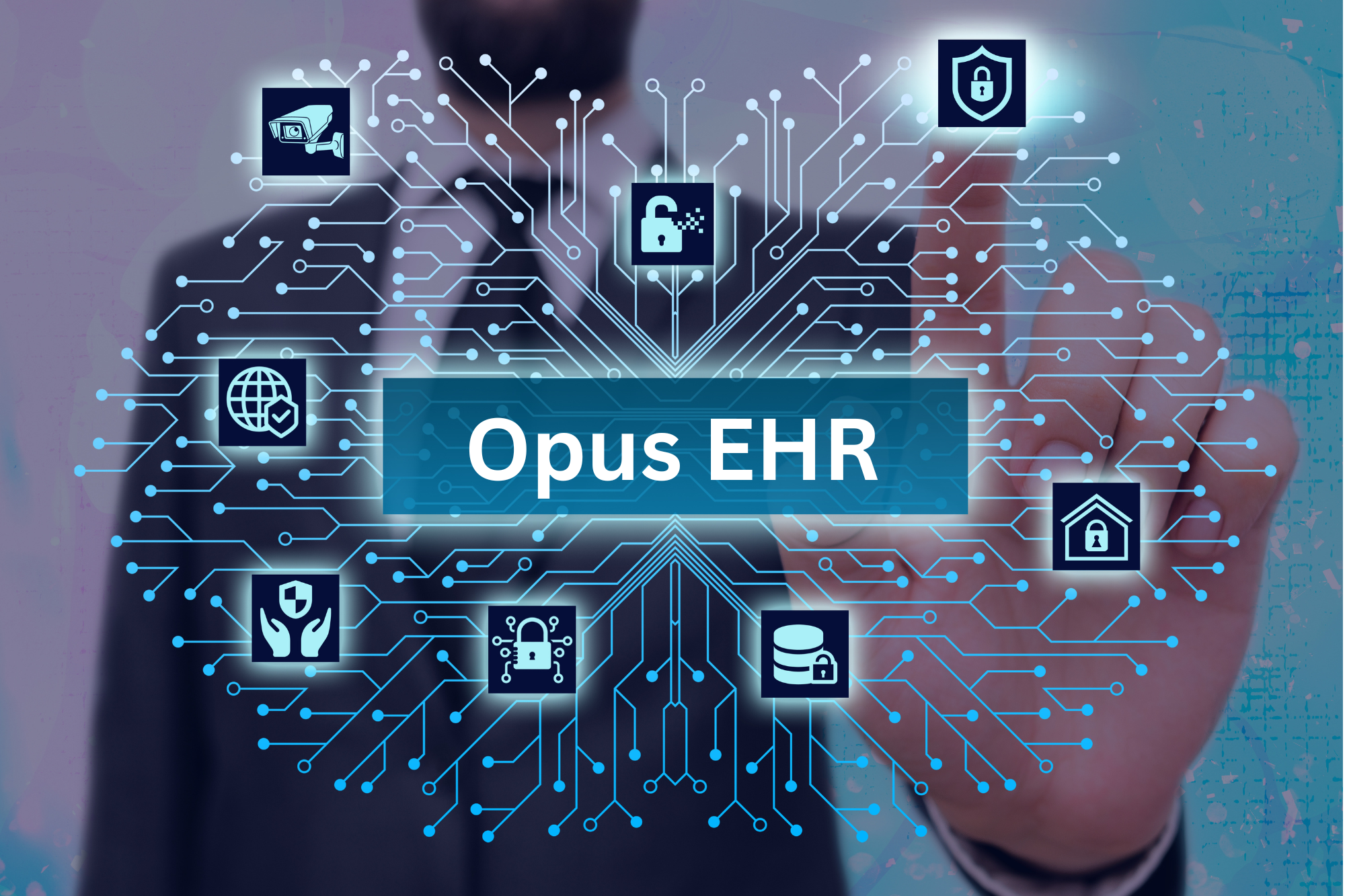 Connecting Mental Health Organizations to Efficient Software: Opus EHR
Mental health organizations play a critical role in helping individuals manage their mental health and well-being. However, many organizations struggle with administrative tasks and managing their operations effectively. This is where Opus EHR comes in, providing easy-to-use software for efficient practice management and seamless workflow processes. With Opus EHR, mental health organizations can focus on their clients while the software handles the rest.
Efficient Practice Management
Opus EHR provides a complete system that covers everything from outreach to discharge, making it an all-in-one solution for mental health organizations. This means that organizations can manage their workflow processes, including scheduling appointments, managing patient information, and tracking progress, all in one place. With Opus EHR, organizations can also handle billing services and customer relationship management, freeing up time for clinicians to focus on their patients.
Seamless Workflow Processes
Opus EHR is designed with the user in mind, making it easy to use and navigate. The intuitive software provides an efficient and seamless experience for mental health practitioners. With Opus EHR, organizations can easily track patient progress, manage medication, and communicate with other healthcare professionals. The software also provides real-time updates, ensuring practitioners can access the latest patient information.
Increase Patient Capacity
Opus EHR allows mental health organizations to see more patients and decrease their waiting lists. The software streamlines administrative tasks, allowing clinicians to see more clients. This means mental health organizations can increase their patient capacity and support those needing it more.
Efficient and Effective
Opus EHR is an efficient and effective solution for mental health organizations. The software provides a complete system covering all practice management aspects, from outreach to discharge. By using Opus EHR, mental health organizations can streamline their operations, increase patient capacity, and focus on what matters most: helping their clients.
In conclusion, mental health organizations are vital in helping individuals manage their mental health and well-being. However, managing administrative tasks and operations can be time-consuming and challenging. Opus EHR provides an efficient and easy-to-use software solution, enabling mental health organizations to focus on their clients and streamline their processes. With Opus EHR, organizations can increase patient capacity, decrease waiting lists, and provide more support to those who need it.
At Opus EHR, we support mental health organizations through software offerings by improving workflows with our easy-to-use, efficient processes in place for practices to streamline their operations. By using Opus EHR, practitioners will need to spend less time and money on their software and have more time and funding to see and help more clients. Are you interested to learn more? Contact Angela Nightengale, our software expert, at 1-798-632-1555 or schedule a meeting here.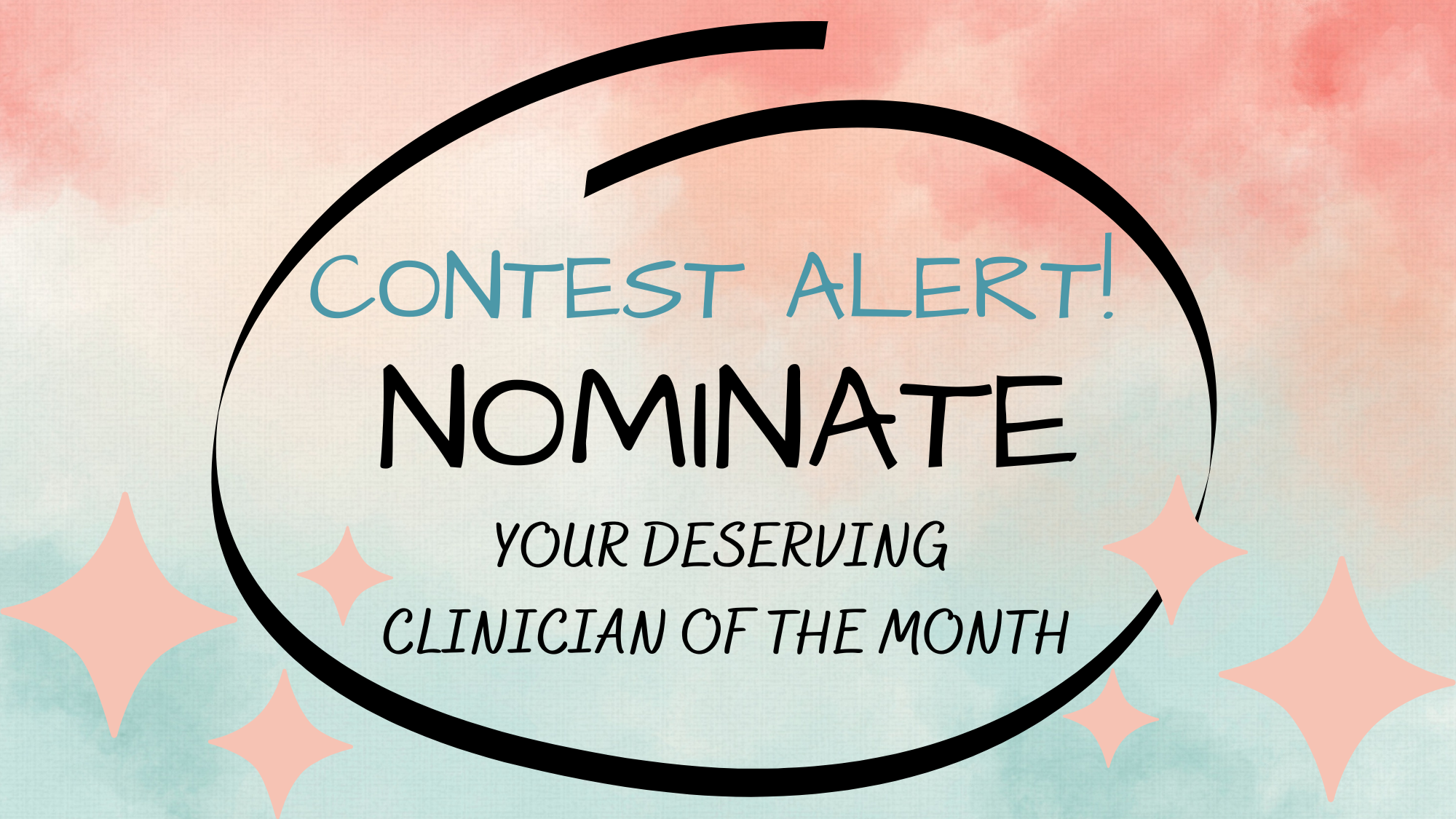 Here at Opus, we understand how much treatment providers impact many lives to recovery and want to honor Clinical Heroes in the Addiction and Behavioral Health Treatment Industry.
Join us in recognizing deserving clinical professionals' hard work and dedication by featuring them in the Opus Spark Newsletter, where they will shine in the spotlight who have gone above and beyond to support patient recovery and therapy.
Nominate a Hero here!
Do you know a clinician who deserves recognition for their outstanding work? Nominate them by completing our simple nomination form.
Winner Announcement
Once a month, our leadership team will select a unique submission to receive a $100 VISA gift card and feature the winner in our newsletter's "Clinician of the Month" section.
What is Opus Spark Newsletter
Monthly awareness information, updates on technology innovations, industry news, and recognizing clinical heroes.
Each recipient will be notified by email and receive their gift card electronically. Let's honor our clinical heroes and show our appreciation for the important work they do.
Nominate Deserving Clinician Here!
Have any questions about Opus - schedule a consultation with Angela, to learn how our upgraded software can help clinicians focus more on their patients and less on their systems. Let's revolutionize behavioral health care together!