Opus Spark October 2022
ADHD Awareness Month is a time to learn more about ADHD and the various ways it can impact people's lives. It is also a time to raise awareness about how ADHD can be treated and managed. This month is an important opportunity to spread knowledge and help break down the stigma associated with ADHD.
Attention-deficit/hyperactivity disorder (ADHD) is a real and serious condition that can have a profound impact on an individual's life. According to the Centers for Disease Control and Prevention (CDC), about 11% of children aged 4-17 years have ADHD. And it's not just a childhood condition – many adults also experience ADHD.
So, what exactly is ADHD?
ADHD is a common neurodevelopmental disorder that is characterized by problems with inattention, impulsivity, and/or hyperactivity. Symptoms of ADHD can vary from person to person, and they may change over time. ADHD can be harmful to an individual's social relationships and work and school performance, but with proper diagnosis and treatment, many people with ADHD are able to live happy and successful lives. Some people with ADHD mainly have symptoms of inattention. Others mostly have symptoms of hyperactivity-impulsivity. Some people have both types of symptoms. Signs of inattention may include challenges with: Paying close attention to details, sustaining attention for long tasks, listening closely when spoken to, and following instructions.
CEO's Message
Since October is National ADHD Awareness Month, it's the perfect time to start the conversation! Although there is no cure for ADHD, there are effective treatments available that can help manage the symptoms, it's still important to talk to your healthcare provider. If you or someone you know struggles with any of these things on a daily basis, it might be worth seeking out A doctor or mental health professional to help to see if they could be signs of ADHD. They can help you figure out if it's ADHD or something else. Once you get a diagnosis, there are many different types of treatments that can help. Treatment usually involves a combination of medication and therapy. Medication can help reduce symptoms of hyperactivity, impulsivity, and inattention. Therapy can teach you how to better manage your symptoms. It might also involve education and support for yourself or your child. Early diagnosis and treatment can make a big difference in managing the symptoms of ADHD and reducing its impact on day-to-day life. With treatment, most people with ADHD can live happy and successful lives.
There are many resources available to help people learn more about ADHD. For information visit the CDC's ADHD webpage: https://www.cdc.gov/ncbddd/adhd/ You can find additional resources from the free resources guide: https://bit.ly/BHResource
Spreading awareness about ADHD during ADHD Awareness Month can help people understand this condition better and provide them with the resources they need to manage it effectively. By working together, we can help make a difference in the lives of those affected by ADHD.
At Opus EHR, we are constantly adding new features to support Behavioral Health operations so you can treat your clients in an efficient and feasible way while we streamline your systems to support processes. We are here as your behavioral health software support, to schedule a full assessment of your current systems and share how we can support you, schedule a consultation here: https://bit.ly/systemanalysis
Trey Wilson
Chief Executive Officer
Opus Behavioral Health
Clinician of The Month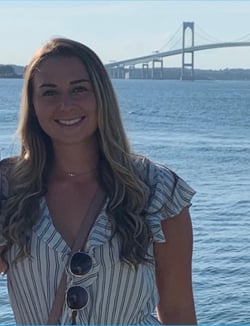 Taylor Calabrese was selected as the clinician of the month because she is a rising superstar who brings fresh ideas and perspectives to create strategies with her clients at Cornerstone Behavioral Services. Her youthful zest and forward-thinking bring a zest for learning and new ideas. She is a rising superstar with very strong collaborative skills and can bring key people together on a case. She just reached her 3-year mark working as a therapist for Cornerstone Behavioral Services. She holds a bachelor's and master's degree in Psychology and is currently finishing up the course work required for BCBA & LBA licensure. While working, she always seeks to empower her clients/students to ensure they can reach the best of their abilities.
Her organization emphasizes her working on some challenging cases and producing some amazing results. She is able to provide a calm presence to her clients, finding a way to motivate and engage to implement and produce fruitful results. Her organization honors her work and believes she has a tremendously bright future ahead of herself and will be a key part of the agency as she continues to excel in her career.

Facts About ADHD:
Millions of US children have been diagnosed with ADHD
Children aged 3–17 years ever diagnosed with ADHD
6 million (9.8%) using data from 2016-2019

3–5 years: 265,000 (2%)
6–11 years 2.4 million (10%)
12–17 years: 3.3 million (13%).

Boys (13%) are more likely to be diagnosed with ADHD than girls (6%)
African children and Caucasian children are more often diagnosed with ADHD (12% and 10%), than Hispanic children (8%) or Asian, non-Hispanic children (3%)
Estimates for ADHD:
ADHD diagnosis among children aged 3–17 years: estimates vary from 6% to 16%.
Any ADHD treatment among children with current ADHD: estimates vary from 58% to 92%

ADHD medication: estimates vary from 38% to 81%
ADHD behavior treatment: estimates vary from 39% to 62%
Treatment for ADHD:
About 3 in 4 US children with current ADHD receive treatment
Children 2–17 years of age with current ADHD:
62% were taking ADHD medication

Ages 2–5: 18%
Ages 6–11: 69%
Ages 12–17: 62%

47% received behavior treatment

Ages 2–5: 60%
Ages 6–11: 51%
Ages 12–17: 42%

Altogether, 77% were receiving treatment. Of these children:

About 30% were treated with medication alone.
About 15% received behavior treatment alone.
About 32% of children with ADHD received medication and behavior treatment.

About 23% of children with ADHD were receiving neither medication treatment nor behavior treatment.
Children 4–17 years old who had been diagnosed with ADHD:
Almost 9 out of 10 children had received school support, which includes school accommodations and helps in the classroom.
About 6 out of 10 children had received some type of behavioral treatment or skills training:

3 out of 10 received parent-delivered behavior therapy.
4 out of 10 received social skills training.
3 out of 10 received peer interventions.
2 out of 10 received cognitive behavior therapy.
Benefits of Outsourced RCM/Managed Billing for practices
Allows practices to track claim progress in real-time
Full connectivity and insights
Daily account-level status updates
Filter reports based on practice specialty needs
Synced in data
Multiple dashboards to choose from
No monthly fees
Information & Analytics
Clinical and financial reporting
Daily, weekly, or monthly charge logs
Provider coding trends
Practice Governance
Monthly gatherings of SSH staff and your practice
Create financial benchmarks and craft a blueprint for your future
Identify coding habits to change or improve, increasing your collections
Review progress in areas most important to your practice
Get Your Practice Ahead with Opus RCM
Increase Efficiency
Improve Collections
Improve Billing Accuracy
Automated Verification Process
Transparency
Seamless data integration
Results in greater insight and in-depth analytics