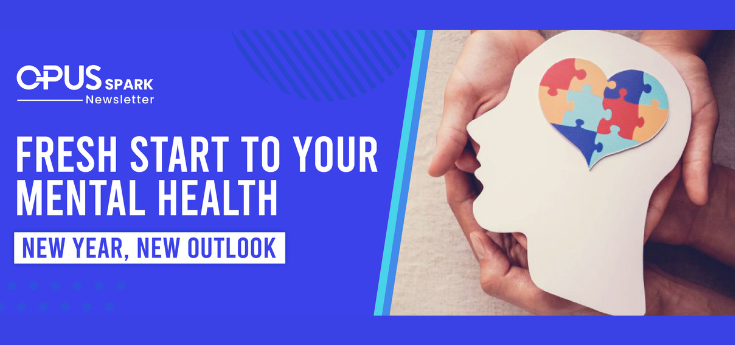 Opus Spark January 2023
CEO's Message
Fresh starts are exciting and often mean taking on many improvements that bolster one's overall well-being. The potential to do better and perhaps the resolve to tackle new and existing aspirations. With January coming to the end of this 2023 new year, it's a good time to check in on your mental health and on those resolutions and goals to see what progress has been made and what to readjust to shift the needle toward your target.
When it comes to setting and keeping goals and new year's resolutions, only about 8% of people who make them actually keep them. Whether you're motivated to start exercising, lose weight, quit smoking, or get promoted at work, setting goals and making resolutions can be exciting.
While resolutions can be around any goal, many people focus on improving their physical and mental health. With all goals made, the ideal outcomes are to bring balance and well-being into our lives. There are five main areas of improvement to focus on; environment, occupation, social life, education, and physical/emotional/financial health, so let's commit not just to self-improvement projects but also factoring in some positive mental health check-ins too. Coming into a new month, it's the perfect opportunity to practice mindful habits such as getting more sleep or regular exercise while getting back on track mentally and physically. Don't forget to include some self-care too! Resolve 2023 by treating yourself with compassion through those everyday choices designed around growth and presence because balanced living lies at the heart of true well-being!
With all these attention points towards focusing on our overall well-being, it's easier to create achievable goals such as getting more sleep, practicing mindful nutrition and exercise, as well as pausing for moments of presence throughout the day, all of which will ultimately result in increased balance in our lives. Fresh start or not, that's something everyone loves!
As you reset or readjust goals, you may incur setbacks along the way, but remember this is a journey, and we are only human so give yourself grace and practice self-compassion. You can always start back up again anytime. Take time to understand and reflect on the challenges you face so you can work harder to overcome them.
Celebrating the small wins and giving yourself positive reinforcement along the way is important. It is said that by the end of January, less than 10% of us actually keep our resolutions, and many go through mental health challenges due to a lack of seeing quick results. Each step you achieve is a win and a very effective motivator to focus and keep moving forward. Even if it's an inch in the right direction, the turtle wins the race too. It's important to encourage yourself and surround yourself around encouraging people too. There are limitless possibilities for change in this new year. All you have to do is be willing to work for them.
We are here not only to provide the mental health and behavioral health tools and resources you need to run your operations and also to be your practice's encourager and celebrator.
Trey Wilson
Chief Executive Officer
Opus EHR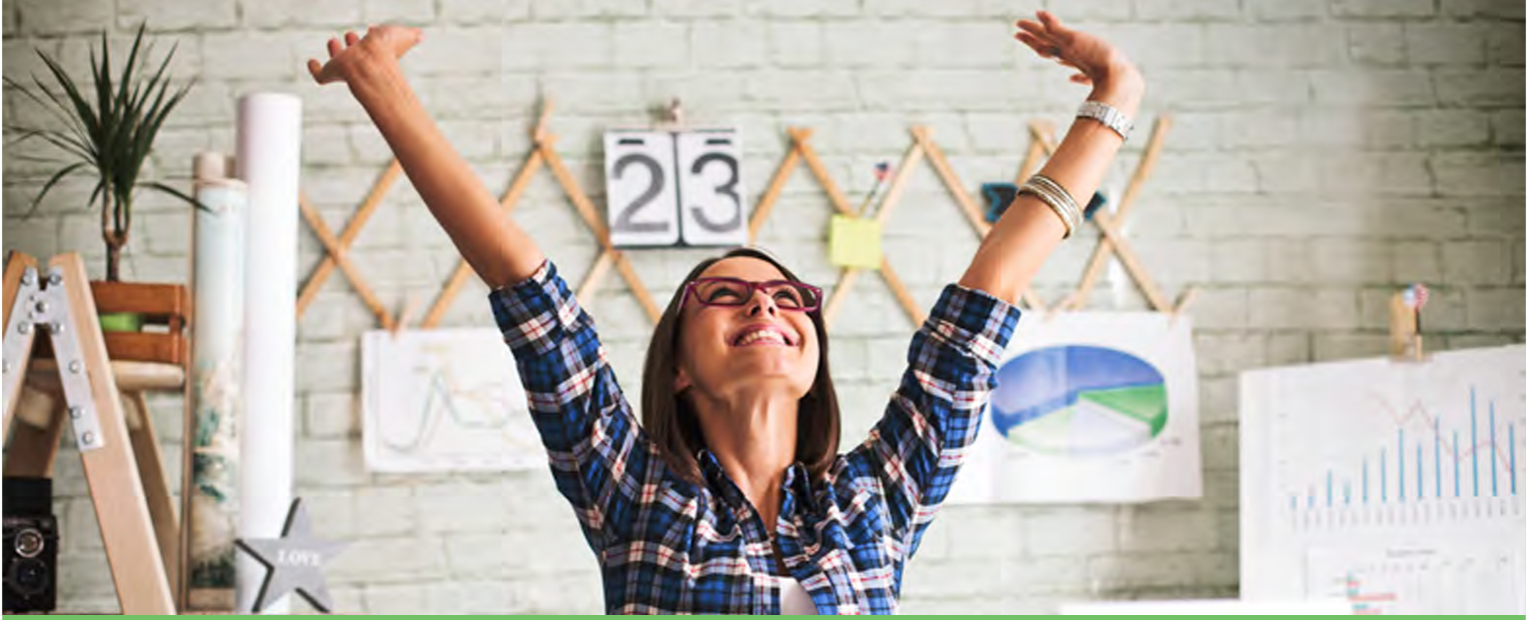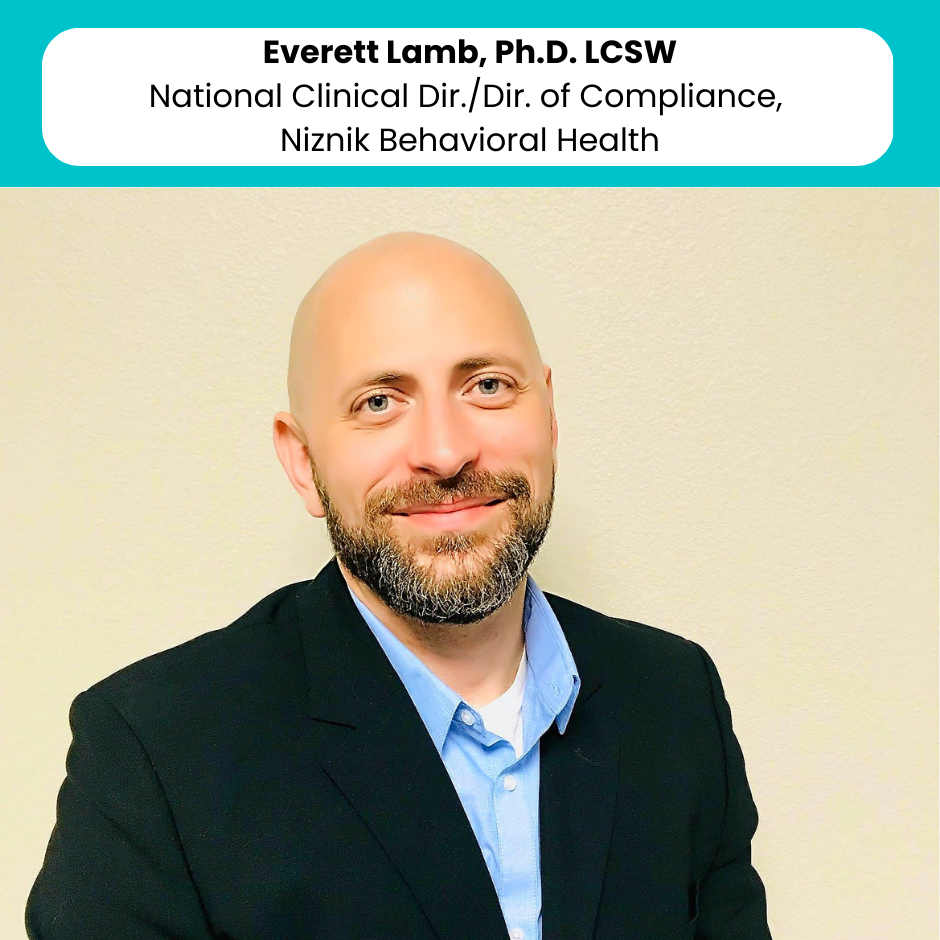 We have selected Dr. Everett Lamb as January's clinician of the month. Not only does he lead our biggest client's facilities as the National Clinical Director at Niznik Behavioral Health, but he additionally helps combat mental health through his clinical journey by changing lives for the better. He is the one his staff and colleagues go to for information, guidance, and advice; as challenges arise, he always has a plan of action with a calming composure.
Dr. Lamb's accreditation includes being a psychologist and licensed clinical social worker. His prior experience includes overseeing Acadia Healthcare and leading substance abuse and mental health organizations for the past 15 years.
Dr. Lamb previously worked directing multiple treatment programs for private hospitals, the Texas Department of Criminal Justice, the Pennsylvania Corrections Department, and Haven for Hope, the world's largest transformational homeless shelter. Dr. Lamb is in long-term active recovery and passionate about helping clients suffering from addiction and co-occurring disorders.
Dr. Lamb is currently working to standardize clinical treatment nationwide while introducing new programming and evidence-based practices to serve our clients better. Dr. Lamb specializes in developing treatment programming for co-occurring disorders, including trauma, anxiety, depression, bipolar, and personality disorders. Dr. Lamb's primary goal is to develop Niznik Behavioral Health into the best clinical program in the country by utilizing up-to-date science, solution-focused therapies, and a client-centered approach to providing our clients with the tools they need to obtain long-term recovery.
Outside of his work with Niznik Behavioral Health, Dr. Lamb is well known for consulting with various magicians and mentalists worldwide. His work has been viewed on America's Got Talent, Fool Us with Penn and Teller, and numerous TV and Netflix specials. He also owns an outdoor survival school in the Texas hill country where he teaches from time to time and has been an advisor on several seasons of the History Channel series alone. In his downtime, Dr. Lamb enjoys Brazilian Jiu-Jitsu, reading, and spending time with his daughter.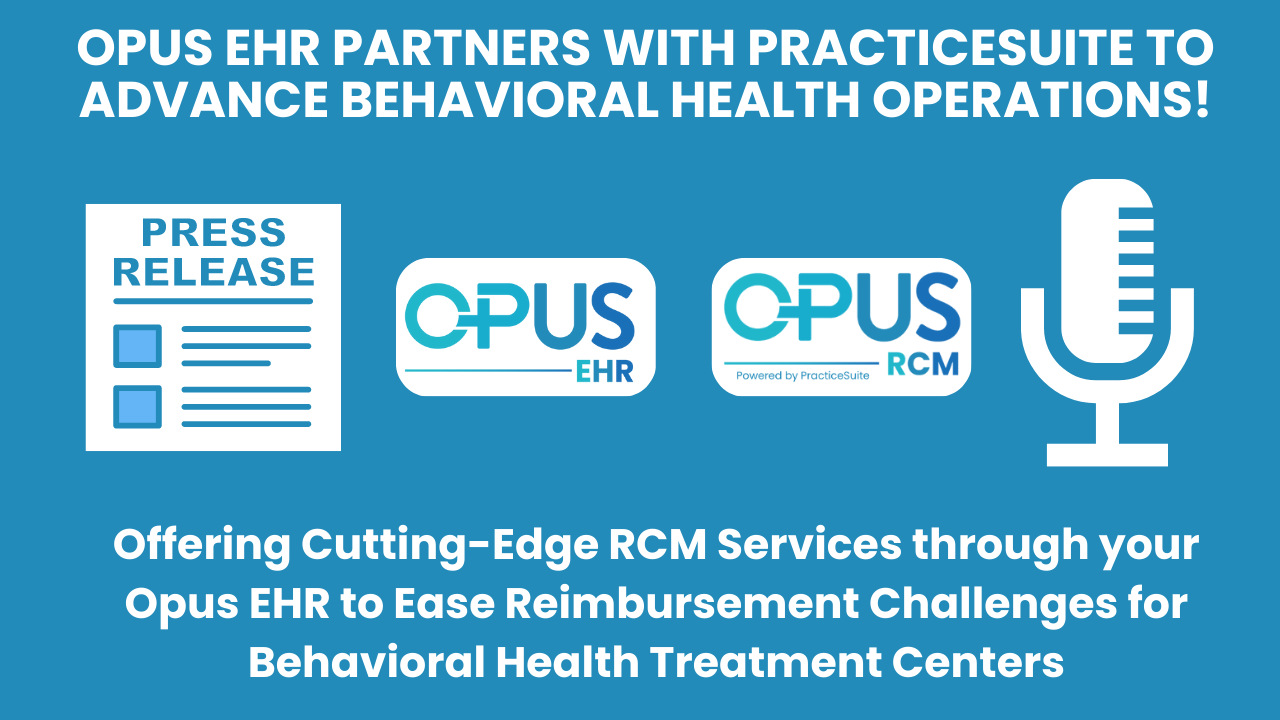 Opus EHR is a comprehensive, cutting-edge clinical software for inpatient and outpatient behavioral health treatment centers. It helps streamline the continuum of care – from intake to admissions, billing, and revenue cycle management processes - optimally and efficiently while remaining secure & HIPAA compliant. With continual customizations based on client requests, added innovative features such as self-scheduling patient digital portals and mobile voice notes paired with kiosks for electronic documents. Opus consistently provides higher reimbursements and better overall outcomes measurement tools, leading their clients towards successful goals!
Opus EHR is revolutionizing addiction, SUD, mental health, and behavioral health treatment centers by providing an innovative unified system that integrates with Managed Billing Service Partners. By optimizing intake, admissions billing, and clinical and medical management processes, Opus offers reliable practice performance - helping your business attain higher levels of efficiency and financial goals through better staff performance.
Through comprehensive integration, Opus EHR has partnered with PractIceSuite, a managed billing services provider, to streamline the revenue cycle management of behavioral health treatment centers. This dynamic system optimizes productivity, credit card processing, insurance verification, and provider productivity from patients' initial intake through discharge. The service functions while maintaining best practices in insurance verification – all with the goal of creating an efficient process-driven environment for healthcare operations staff! Put Opus EHR in charge of your behavioral operations - it's an intelligent move towards greater efficiency today!
Streamline your billing, payment, and collection processes with Opus RCM Powered by PracticeSuite. This comprehensive platform provides 100% transparency into all Key Performance Indicators through a single dashboard sign-on. Get automated insurance verification, accurate billing to ensure you get paid on time, intelligent collections that maximize revenue, and online patient payment tools for convenience -all in one package!
As the industry demands more efficient behavioral health services grow, technology needs to keep up with operations. In recent years, there has been a dramatic increase in awareness of the role Behavioral Health plays in all healthcare encounters, from behavioral health to hospital admittance. "This partnership offers added value to our already comprehensive package of integrated services. Clients will be able to increase payor collections, automate processes, have greater financial control and performance, have better insight into provider productivity, and improve staff efficiency enterprise-wide," stated Trey Wilson, CEO of Opus EHR.
The team recently featured the integration on a complimentary webinar, available on demand: https://www.opusehr.com/navigating-modern-tech-watch-recording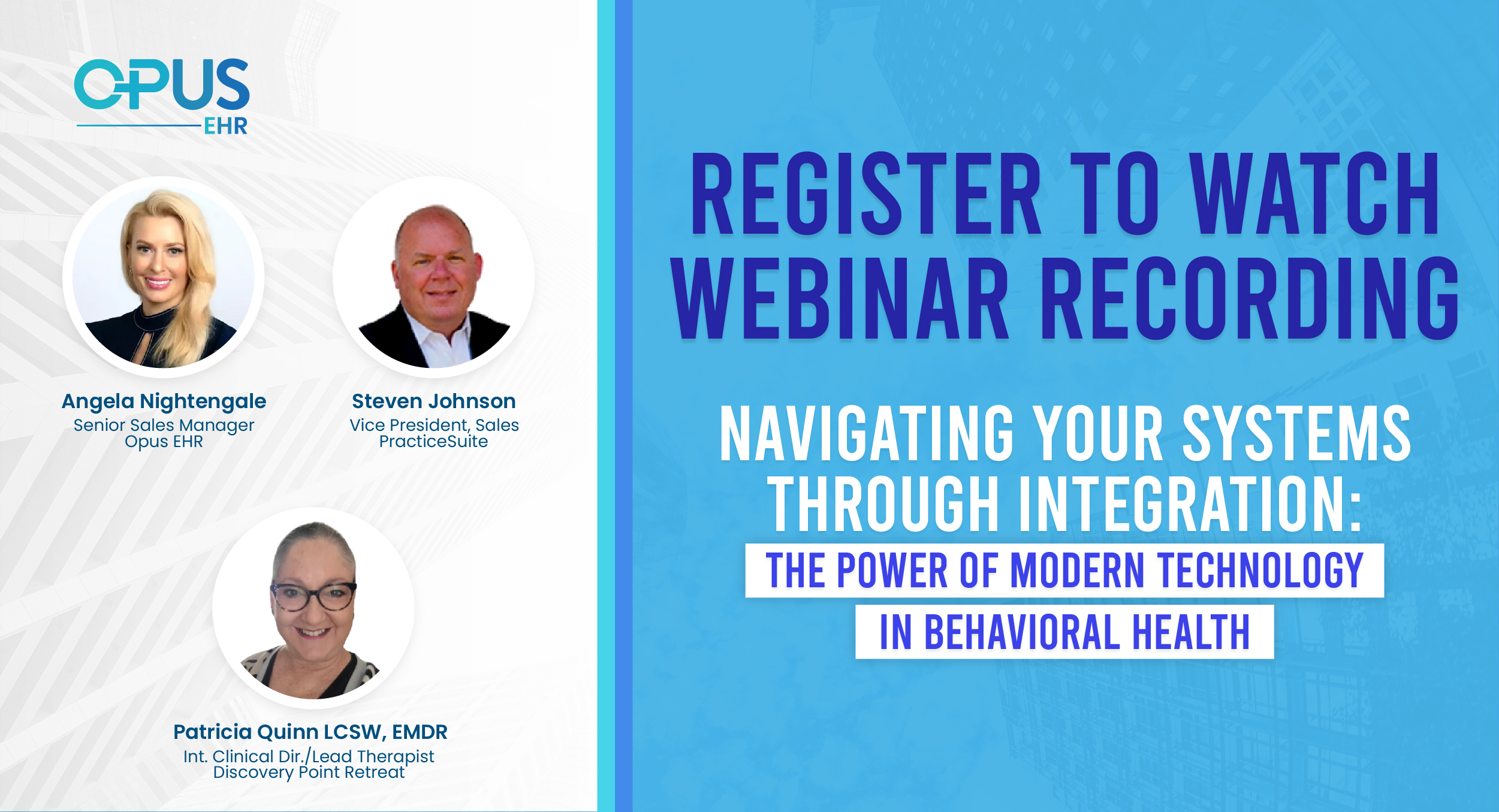 As behavioral health treatment demand increases, technological advances become more important to adapt. The power of modern integration allows systems to sync and communicate effectively. For single data input, up-to-date status updates, and bidirectional flow of information, it will enable multiple users to use an easy-to-use, fully-encompassed system to manage their patients and clients effectively without room for errors and get paid on time.
It would only benefit a practice to have an all-in-one EHR and RCM that communicates clearly for optimal, efficient operations and the highest practice return on investment.
Our expert speakers discuss navigating your systems through integration using modern behavioral health technology through Practice Management, RCM, and EHR connectivity in this demo discussion.
Increase efficiency and productivity at your facility
Learn key metrics for higher practice ROI
Get your time back to see more patients per week
Improve communication through data sharing
Tips for easy navigation through an ever-growing technological landscape
Ways to connect with patients and clients to increase ideal outcomes
Benefits of partnership integration – get the most out of your EHR and RCM
Register to watch the webinar recording here!
Watch Partnership Demo Recording Here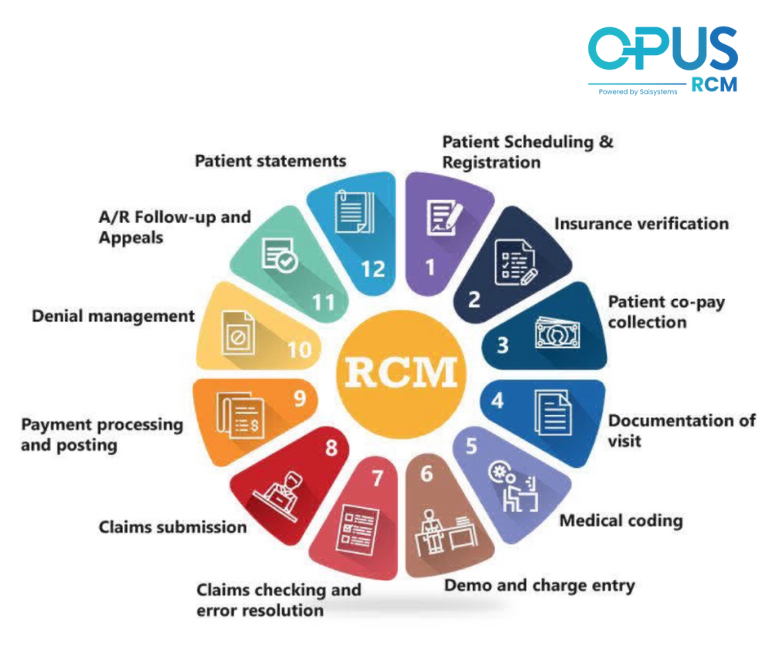 Managed Billing - Inpatient
Do you feel your in-house medical billing processes could be better? Is it challenging to keep up with aging Accounts Receivable? Does your Behavioral Health Center need more staff or more expertise for your complex medical billing?
If you answered yes to any of these questions, we have the solutions for you.
Our RCM software keeps everything 100% transparent so that you can track your financial health every step of the way. Our guarantees are top tier as lowest receivable rates- the average aging receivables is 8%, and can result in an 11% growth in annual revenue or a 20% increase in cash collections - all within 72 hours! Plus, a 96% first-pass claim rate on scheduling & registration at the start helps ensure good collection practices to be efficiently followed up with patient/client records verification by way of checking portals or using phone calls or secure portals for verification. With us at your side, always stay ahead regarding managing finances and reaching those goals quickly and efficiently!
Streamline your billing process by entrusting the Opus RCM Team with your medical claims. We guarantee both quality and accuracy, as every claim gets scrubbed before it is sent out - eliminating any potential rejections or denials immediately. Take control of patient statements AND client segmentations thanks to our automated revenue cycle system! Let us keep track of payments while we follow up on anything that needs attention from appeals letters, leaving you free to focus on what matters more: providing top-notch patient care!
Opus RCM Managed Billing offers:
Comprehensive Medical Billing Services
Complete revenue cycle specialists from patient payments to Insurance reimbursement
Real-Time Transparency
Up-to-the-minute dashboards and reporting show medical billing performance at any time
Extension of Your Team
Our staff works as members of your practice to help patients and communicate with payers.
Opus RCM powered by PracticeSuite's expert RCM analysis will give you insight into the opportunities that may exist for process and revenue improvement. The first step in identifying cost reductions and ways to increase collections rests with you. Sign up for a complimentary revenue analysis with our expert RCM team. We guarantee you'll be happy you did––at no cost to you.
To learn more, we offer a complete revenue analysis: https://www.opusehr.com/revenue-analysis
Revenue Cycle Management Services
Complete revenue cycle specialists, from patient payments to final Insurance reimbursement. We get you paid.
Real-Time Transparency
Up-to-the-minute dashboard reporting and KPIs show medical billing performance in real-time.
Extension of Your Team
Our staff works as members of your practice to help patients and communicate with payers.
We Don't Back Down
Whether denials, appeals, underpayments, or recoupment, we diligently get you paid what you're owed. And keep goodwill with payers and patients (gentle, persistent pressure).
Optimal Performance
Improved first-pass claim acceptance and automated remittance posting will significantly speed up your payment cycle.
Schedule a Complimentary Revenue Analysis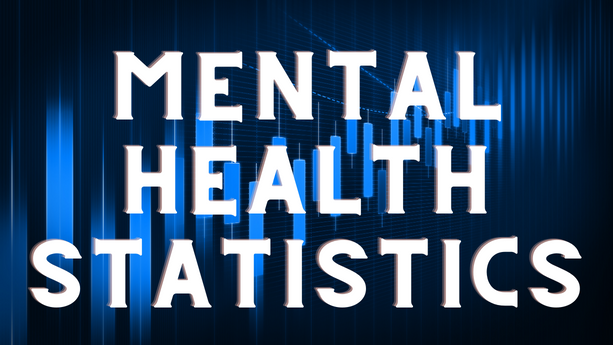 When it comes to fresh starts, mental health is a prominent focus for many young (18-34 years old) adults and Black Americans (42%) making such plans to better their well-being! If you're part of this group or have friends who are parents too – moms in particular (40%) – then know that taking intentional time away from social media can help make your resolution stick: 47% of dads say they plan on doing just that.
Anxiety among demographic groups runs deep and wide. Women display heightened levels of financial insecurity, while Hispanic adults express more significant unease towards multiple issues than other nationalities. Vaccination has remarkably transformed perceptions surrounding the COVID-19 pandemic: vaccinated people feel more anxious than unvaccinated persons (62% versus 28%). Mental health worries remain relatively consistent regardless of vaccination status – with 35%-37% feeling anxiety in this area overall.
"It can't be said enough that there is no health without mental health, and it sounds like a lot of us will be starting the new year with that focus in mind," said APA CEO and Medical Director Saul Levin, M.D., M.P.A."
Among the other top resolution topic areas, Americans: 42% focus on physical fitness, 36% on their finances, 27% focus on a diet, 25% on social/relationships, and 20% on spirituality.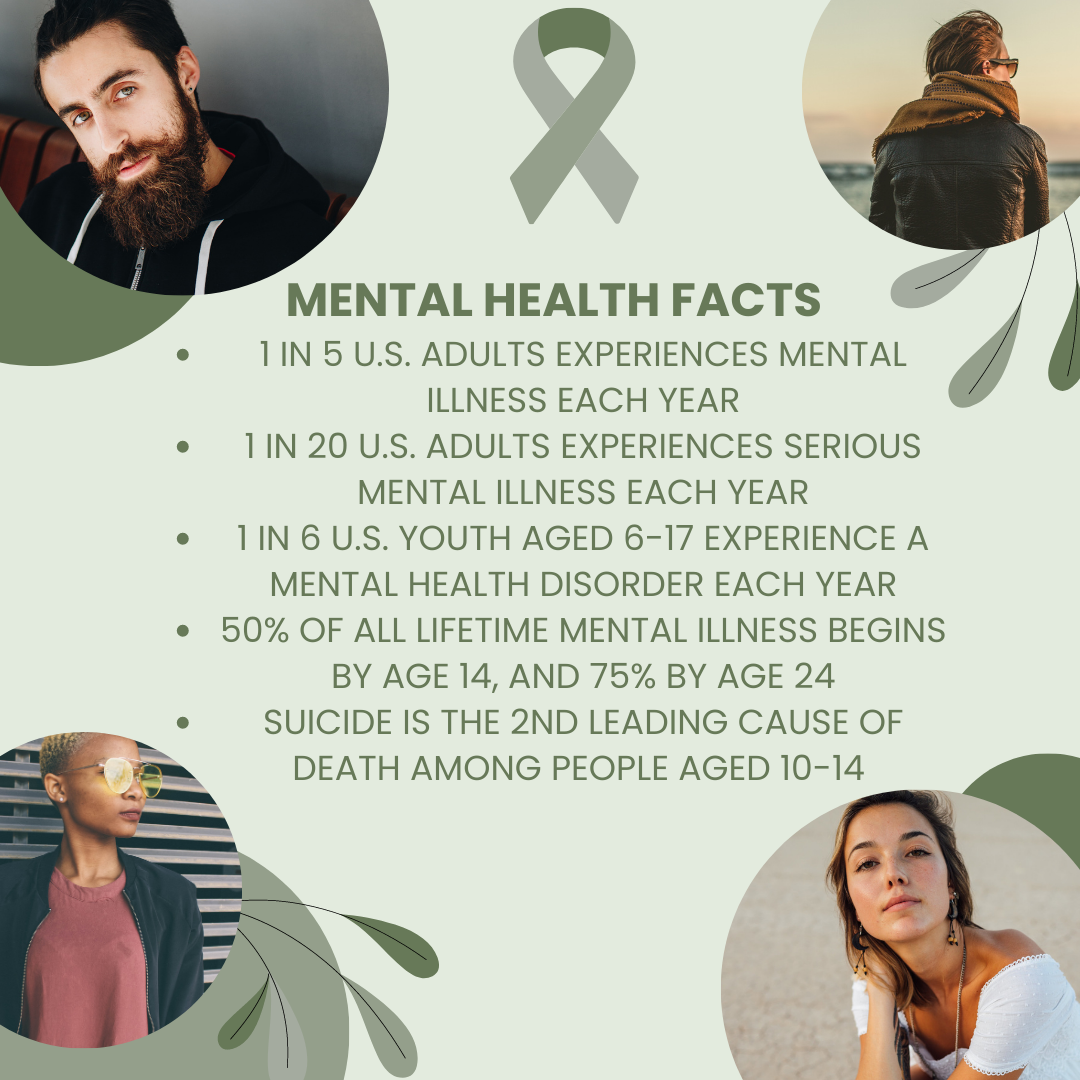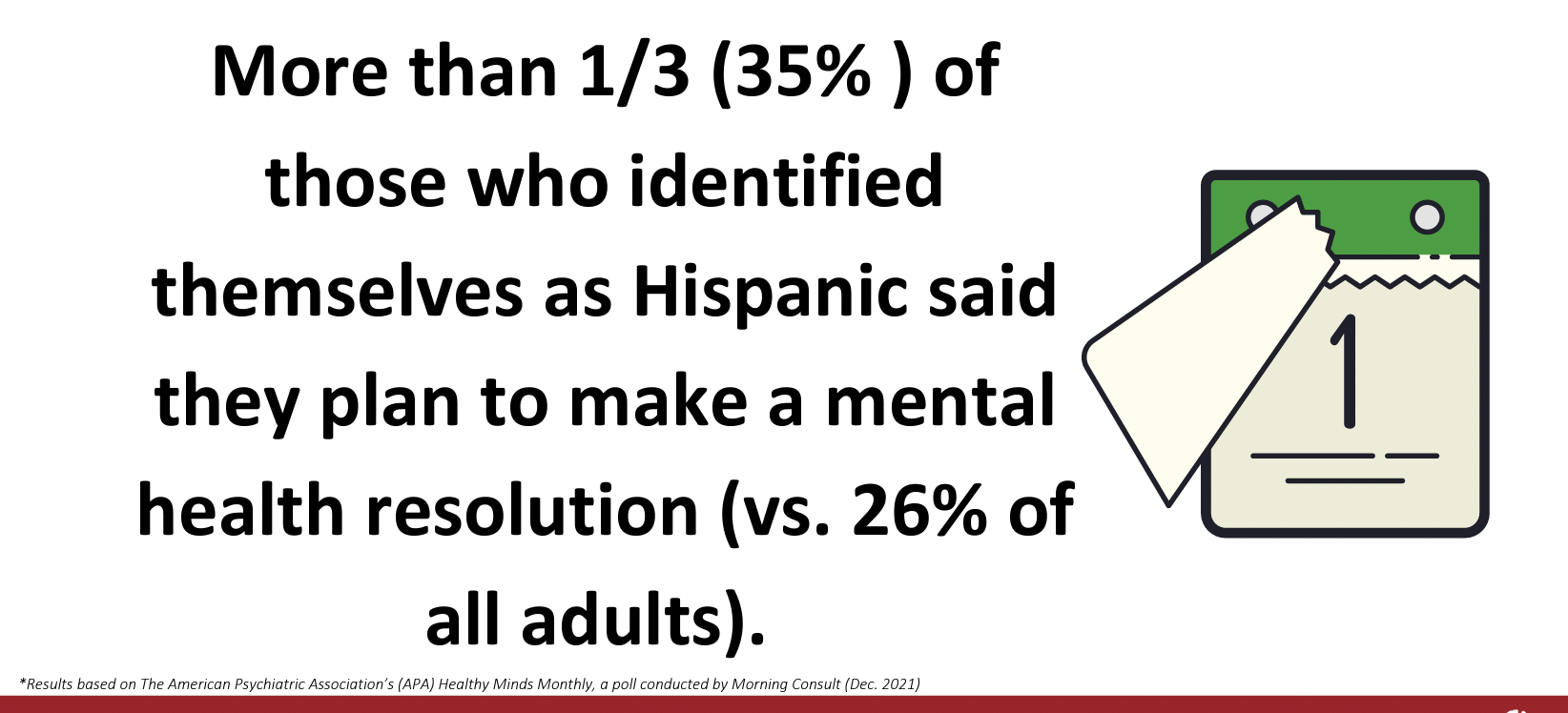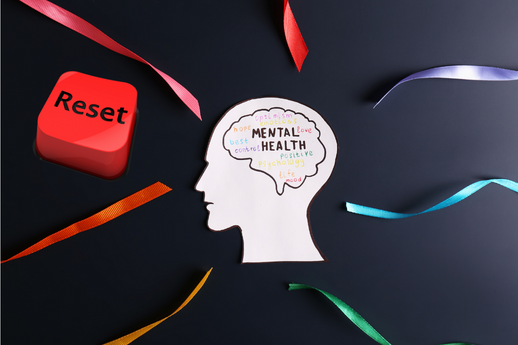 January 2023 is Almost Done - Ways to Press That RESET Button
Thinking – Practice "gratitude thinking" for 10 minutes daily. You will change how you think about yourself and everything around you with gratitude and generosity.
Routine – By simply changing some of your daily routines, you can significantly increase interest, possibility, and opportunity in your life. These are simple things like changing your gym time, taking a different route to work or daily errands, taking your lunch break at another time, etc. These small changes will help you meet other people and increase the variety and interest in each day's activities.
Habits– These can be a bit harder for some people to tackle but try sitting in a different place in your lounge or at your favorite café. You can also try to displace a bad habit, and the best way to do this is to replace it with a new habit that serves you better. Focus your energy, effort, and priority on the new practice, and just let the old habit go.
Friendships – Essential to reset contact with friends that are always negative. Get involved in groups and activities to connect with positive people. Make sure the people you spend the most time with are positive and uplifting.
Mood – Laugh out loud regularly to reset your mood and general wellbeing
Career – It is amazing how exciting it can be to reset your career by finding something you love to do.
Volunteer - Try doing things outside of your comfort zone to help people in need or use your skills to make an impact. It will also propel you to feel good about yourself by helping those less fortunate.
Beliefs– These are significantly harder to change, but these can provoke empowering changes at any part of your life. Genuinely challenge yourself with this question: "Why do I believe that?" It can be very liberating to eliminate beliefs that limit your personal growth because they are rooted in fear.
Goals – It is essential to reset your goals often. Make sure you always have a healthy array of purposes. Setting realistic goals to see progress sooner as you succeed and achieve your goals is important. Helping others achieve their goals can give you more hope through your progress.
Life – Sometimes, you are forced into a reset after a death, separation, accident, or illness. As difficult as these situations are, there is always some upside, regardless of how hard this may be to believe. These changes can shift the energy into resisting a reset of this nature. Take some comfort and trust the process by trying something positive one day at a time.
Five Things to Help you Master the Use of "RESET":
Accept that not everything is within your control.
Have gratitude for your life and all the good things you have experienced.
Have the courage to be free and relish everything that comes with the opportunity to make mistakes. Most of the time, these are nothing more than unanticipated consequences.
Don't take more than you give, and cherish being humble.
Laughter is the best reset of all.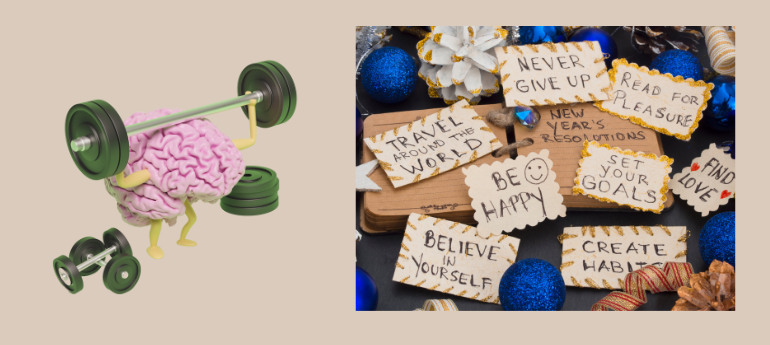 Tips to Help You Focus On Your Mental Health
Cut down on drinking and avoid drugs: Substances are incredibly harmful to your physical and mental health. It's well-known that alcohol is a depressant, which can negatively affect your mood, making you feel low and anxious. Depending on which drugs you misuse, the effects on your mental health can range from depression, anxiety, and euphoria to long-term psychosis.
Look after yourself physically to feel better mentally: Your physical and mental well-being are linked, and you can make many positive changes to improve your physical well-being that will also result in psychological benefits.
Exercise regularly: Exercise boosts the 'happy chemicals in the brain, known as endorphins, which ultimately improves your mood and sense of well-being. Try and make an effort to exercise every day, even if this is going for a short walk, and you'll likely feel better as a result, both physically and mentally.
Eat healthily: It's important to make a conscious effort to eat more healthily and try not to overeat. Not only does this have apparent physical health benefits, but a healthy diet full of vitamins and nutrients can also positively affect your mental well-being. Research suggests that foods rich in folic acid (such as avocado and spinach), and omega-3 acids (such as salmon and tuna), can improve your mood and lower stress and anxiety.
Get yourself 'out there': For many, January, in particular, can be a miserable month, Christmas is over, and the gloomier nights can mean that all you want to do is stay at home. However, staying indoors and potentially isolating yourself can harm your mental health. Thus it is vital to look for ways to get yourself 'out there actively.' You could try joining some form of group or club, based on something you enjoy or something you've always wanted to try, or volunteering. You may make new friends, increase your confidence, and find a positive hobby that you can continue all year round, thus improving your overall mental health and well-being.
Practice self-care: It's so important to practice self-care as a means of improving your mental health. It can be easy to focus on the needs of other people in your life at the expense of your own needs, but taking just a small amount of time for yourself can be hugely beneficial to your psychological health.
Discover what makes you happy: Develop an understanding of the places, people, and activities that make you happy and bring enjoyment to your life. Then try to include as many of these as possible within your daily life to boost your mood and well-being. You could even write these things down and refer to your list whenever you're feeling low, anxious, or stressed as a reminder of all the positive things in your life.
Seek out professional assistance from a psychologist: If you are struggling with a mental health problem, it's essential to recognize that specialist support is available to find out how help can overcome your challenges and take steps towards a healthy and fulfilling life that you deserve.
Mental Health Benefits of Regular Exercise:
Boosts mood
Reduces stress levels
Promotes sleep
Improves self-esteem
Relieves depression
Propels positivity
Increases happiness

Our team is constantly adding new tools and innovating features that practices need as we get feedback from our valued clients.
If you are interested in upgrading your operations by giving Opus EHR a try;
Watch our demo: https://bit.ly/opusehrdemo
Start your complimentary 21-day trial today: https://bit.ly/opustrial.