Top Challenges for the Behavioral Health Industry in 2022
As we move steadily into 2022, we begin to see two forces shaping the future of the behavioral health care space most prominently. These forces are an increasing need for data collection and analytics, and a maturing industry landscape. If behavioral health care professionals, don't position to take advantage of these changing conditions, they do a disservice to both their organizations and the patients who rely on them for exceptional care.
Data access, analytics, and benchmarking are the tools that will propel us forward into a future increasingly dominated by data-driven technologies. As cutting-edge innovations like digital medicine and interoperable data sharing move us towards a growing capacity for truly personalized medicine, the need to control costs and improve data accuracy to make this future one that is attainable for all segments of our society becomes progressively more salient.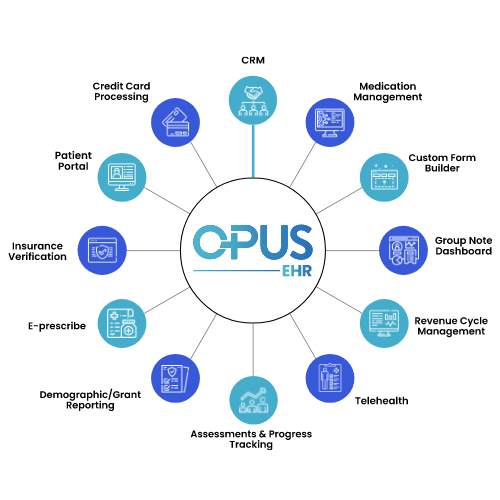 The need for completeness and accuracy in data collection becomes paramount as advanced diagnostic systems need to learn as much as possible, as quickly as possible, to ultimately provide meaningful data-directed outcomes. In order to provide the best assessment and care behavioral science has to offer, we need reliable, verifiable data to be available quickly, in an integrated format. But to serve the needs of all segments of society, we must provide this under mounting cost pressures as well.
Cost control and quick, dependable data collection will only become more important as we continue to forge a path into this new frontier. We must set a firm foundation for growth of innovation so our future stands on firm ground. At the front line of the need for maintaining cost efficiency with data speed and clarity lies integrated management solutions like the one offered by OPUS Behavioral Health EHR.
From patient intake forms and insurance verification to medications management, assessment tracking, grant reporting, admissions status reminders, verification, patient portal and more, these integrated solutions are poised to take an organization's data integration capabilities to the next level. The suite offered by OPUS EHR is a premium solution, because it provides end-to-end data management with a single sign-on. The efficiency of the integrated system allows care givers to focus on patient needs, rather than data entry tasks. The advanced data and management platform allows the caregiver to thrive within an increasingly data-reliant patient care model.
A second force that has been creating waves of change through all corners of the behavioral health space is industry consolidation. Strategic insight firm Precedence Research reported in November 2021 that "the U.S. Behavioral Health Market was valued at US$ 90.5 billion in 2020 and is projected to be worth around US$ 132.4 billion by 2027," with the largest service segment (35.1%) being the extremely data-dependent and management-challenged area of "outpatient counseling."
When this type of explosive growth is seen in an industry, capital is attracted from both the private and public sectors. Larger industry players typically move to acquire smaller companies and create consolidated industry giants, able to provide efficient, high-quality services to consumers at reduced costs. In order to compete with these titans of industry, independent behavioral health care providers should seek in early stages to partner with firms focused on providing support platforms that will even out the playing field and allow independent providers to better compete in volatile market conditions.
The nature of the OPUS EHR system is that it is not only comprehensive, but scalable as well - so it can grow with an organization as it expands its behavioral care model. For an organization providing grass-roots community-based treatment, the service partners at OPUS EHR can work to provide targeted solutions that solve needs as they arise and maintain the lean cost efficiency needed to fuel growth. As the provider increases the services and care options it offers, the OPUS EHR platform scales up to provide industry-leading solutions for customer relations (CRM), revenue cycle (RCM), and electronic health record (EHR) management. This comprehensive, yet scalable, quality of the OPUS system provides maximum value and right-sized support to foster fiscally sound organizational growth.
With conditions changing quickly in the behavioral health care industry, it's important to stay flexible in order to anticipate and react quickly to unexpected disruptive forces. With an industry partner like OPUS Behavioral EHR taking care of integrated data systems and patient record management issues, smaller organizations can focus on maintaining their competitive advantage of personal care. As the organization grows, OPUS EHR paves the way to transition into a cost-efficient comprehensive patient care model that delivers high-quality affordable care across all patient segments.