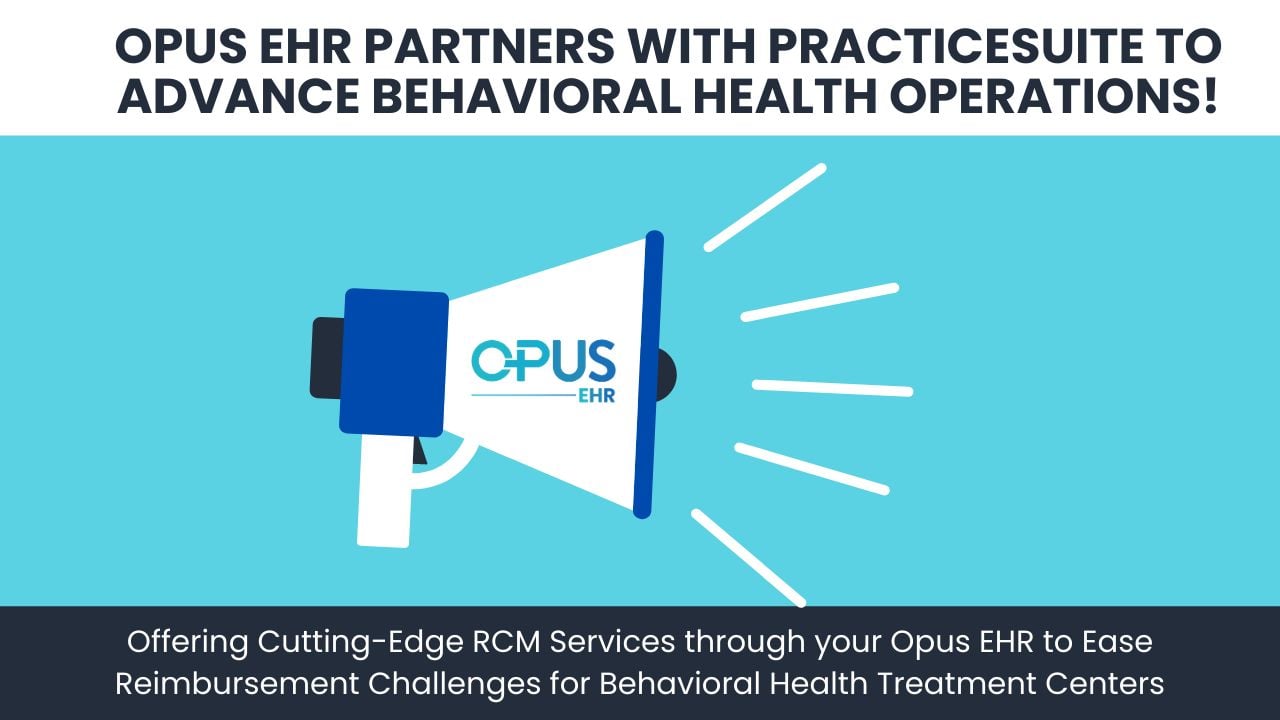 Opus EHR and PracticeSuite Announce Strategic Partnership
Opus EHR Partners with PracticeSuite To Offer Cutting-Edge RCM Services and Ease Reimbursement Challenges for Behavioral Health Treatment Centers
Opus EHR., a leading cloud-based electronic health record (EHR) platform, is pleased to announce a strategic partnership with PracticeSuite to provide intelligent, automated reimbursement services to drive profitability for Behavioral Health Treatment Centers and Providers.
Specifically designed for addiction, SUD, and mental health treatment facilities, Opus EHR optimizes intake, admissions, billing, clinical, and medical management processes with a simple, streamlined view across the continuum of care. The partnership unites Opus EHR and PracticeSuite tech-enabled healthcare SaaS solutions and services to boost practices financially and operationally. "When we began searching for a complete solution to integrate with Opus EHR, I knew one of the best Practice Management SAAS systems out there was PracticeSuite," says Trey Wilson, CEO of Opus EHR. "As the former CRO of PracticeSuite, and knowing how agile the PracticeSuite team is, I knew this was the best partnership to optimize our product," Wilson adds.
"PracticeSuite understands billing and reimbursement as a common challenge for Behavioral Health facilities with ever-changing billing requirements and staffing challenges. This partnership provides struggling centers a path that will increase profitability, productivity, and staff efficiency," stated Vinod Nair, CEO of PracticeSuite. "With credit card processing and insurance verification all in one place, supporting overall practice processes, the partnership will streamline behavioral health operations to take them to the next level."
"We are dedicated to making the easiest-to-use EHR and integrated PM System, with capabilities that could only be delivered by two teams working and focused within the behavioral health industry. Opus EHR and PracticeSuite continue to drive innovation and lead the market in their respective specialties," explained Trey Wilson. "This partnership offers added value to our already comprehensive package of integrated services. Customers will be able to increase payor collections, automate processes, have greater financial control and increased performance, as well as improved provider productivity and staff efficiency"
The companies agreed to undergo a full bidirectional integration that gives Opus EHR customers seamless access to PracticeSuite's Practice Management system via a single login without ever having to navigate from Opus EHR. The continued synergies between the two parallel the vision of enhancing clients'/prospects' operations to give them more time on the front end by reducing the time spent back end processes. This way, they utilize the functionality between the products and services as they grow to scale. The partnership provides customers with the best of both worlds – a top-tier practice management system with the power of a fully-scalable EHR specifically built for the behavioral health space.
The integration was on display at a complimentary public webinar held on January 17, 2023, now available on demand at: https://www.opusehr.com/navigating-modern-tech-watch-recording
About Opus EHR
Opus EHR is a complete clinical solution that is more effective than other options on the market, providing solutions for inpatient and outpatient behavioral health treatment centers. With everything in one place, Opus helps optimize the continuum of care – intake, admissions, billing, revenue cycle, clinical and medical management processes – all in a secure and HIPAA-compliant environment. As a result, the care team stays in sync to achieve higher reimbursements and better outcomes. Opus consistently serves their client needs through customization and added innovative features such as a self-scheduling patient portal, mobile voice-to-text notes, kiosks, and more added as requests come in... For more information, visit www.opusehr.com
About PracticeSuite
PracticeSuite is a Silicon Valley innovative, cloud-based billing service and total practice management software. Founded in 2004, they have grown to 160 billing specialists and a user base of over 92,000+ medical professionals, processing over $2.2 billion in claims annually. Their mission is to help clinical practices profitably by providing unequaled medical billing software with exceptional practice management features and revenue cycle management services. Their experience in medical billing and unique revenue cycle diagnostic tools provide deep insight into the fine-tuning of the revenue cycle to achieve maximum profitability. PracticeSuite improves billing and financial performance, provider productivity monitoring, and overall staff efficiency. And it provides a modern digital patient communications experience. For more information, visit https://practicesuite.com/
Media Contact
Ashley Gerchikov
Director of Marketing
Opus EHR
Ashley@opusbehavioral.com