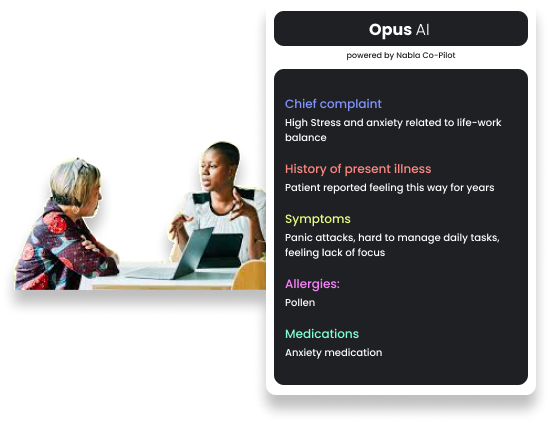 Save Time and Money by Drafting Your Notes in Real Time
Calculate the cost-savings and revenue increase potential for your facility.
Assumptions:
Clinicians hourly rate is $50
24 working days per month
One-hour long sessions
Clinicians sees 6 patients per day
Reimbursement MH session is $70, SUD is $125
Revenue Boost
per day
per month
Return On Investment
additional monthly revenue -
monthly cost Opus Co-Pilot
---
Your Monthly ROI
Other benefits
hours saved per month per clinician
90% reduction of fatigue
Total notes produced by practice:
notes per day
notes per month
Time spent on notes per month:
minutes
hours
Current Revenue
Leverage the power of artificial intelligence to cut down on screen time, improve the quality of notes, and increase your revenue Potential
Save Time
Opus AI takes detailed contextual notes and meticulously transcribes each point discussed.
Reduce Screentime
Note drafts are ready the minute you end the therapy session and only require a quick review before saving.
Quality
Opus AI captures detailed nuance during therapy sessions and creates impeccable, insurance-friendly notes.
ROI
The time savings and ability to see more patients increases your facility's revenue potential.
48 Hours
Average time saved per month per clinician.
28% Improvement
in revenue reimbursement from better, more detailed notes*
90%
of clinicians experience a significant reduction of fatigue.
Empower your clinicians with a streamlined approach to documentation.
AI-Powered Clinical Documentation
Magically create instant clinical notes from any patient interaction.
Ensure your patients stay engaged in their care journey.
Spend more time with your patients.
Try It Free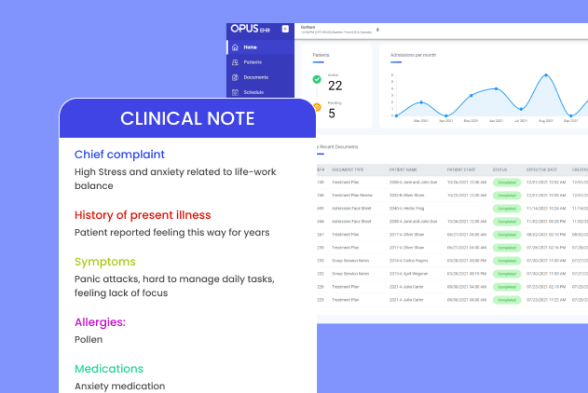 More one-on-one with your patients and less time writing notes
Opus AI listens in during therapy sessions and creates impeccable, insurance-friendly notes that are structured in the exact format of your forms and templates in Opus EHR.

Conversations are meticulously transcribed and organized, saving therapists invaluable time, improving note quality, and maximizing revenue by allowing them to see more patients.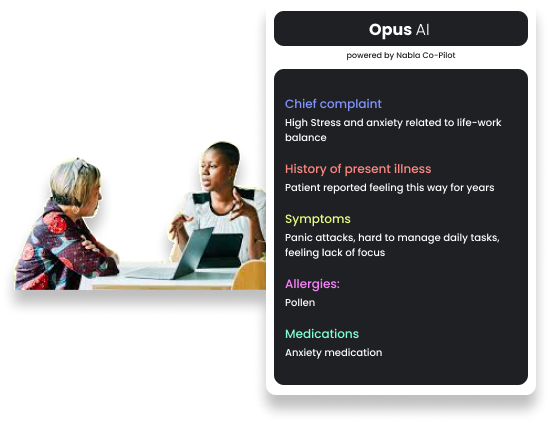 Focus On The Patient, Not Paperwork
Save 40% of your time and see more patients.
Magically generate notes from patient interactions.
Make better use of your time and see more patients.
Spend more quality time with your patients.
Schedule a Demo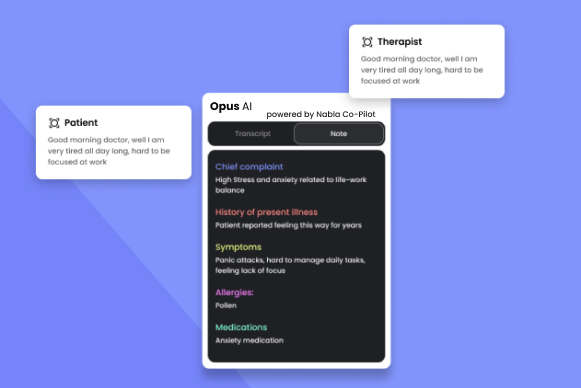 Better Documentation, Better Care
Capture detailed nuances of each patient interaction.
Effortlessly produce better notes than ensure reimbursement.
Keep your patients engaged in their care journey.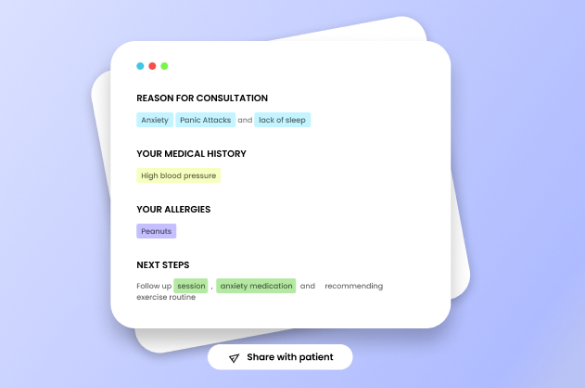 For in-person consultations
Works on your computer and mobile device - no additional hardware required.
No complex setup or IT involvement.
Capture each session from beginning to end.
Schedule a Demo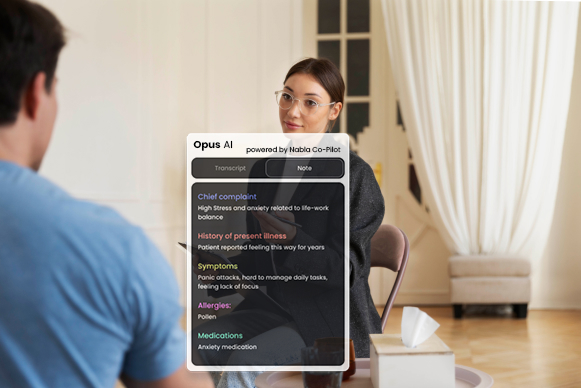 For telehealth consultations
Works with any videoconference platform including Zoom, Meet, Teams, and others.
Maximize eye contact with your patient.
Non-invasive, takes just a small corner of your screen.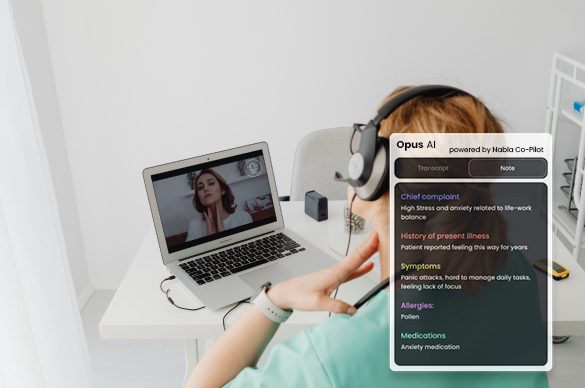 HIPAA-compliant
Audio, transcripts, and notes are never saved or stored anywhere.
HIPAA and GDPR-compliant
SOC 2 Type 2 and ISO 27001 certified
Schedule a Demo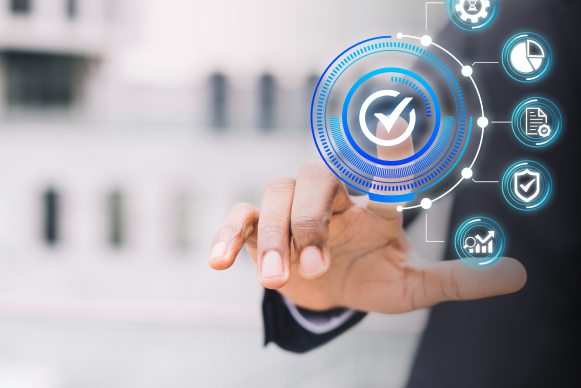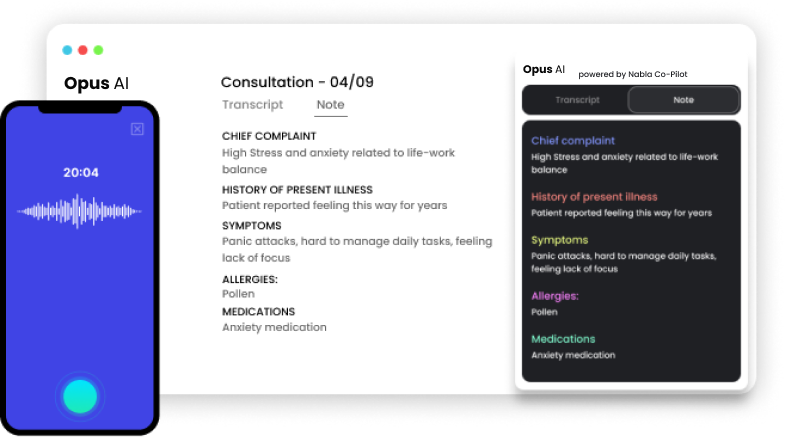 Opus AI works everywhere: Whether you are at your desk on your computer, or on the move on your mobile device.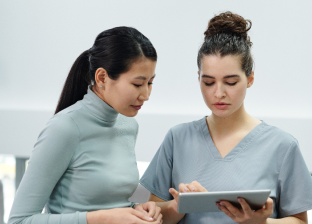 For Behavioral Health and Substance Use Dependence Treatment Facilities
Maximize efficiency and improve care by empowering your team to focus on patient care and not on writing notes. By automating the note-writing process, clinicians save 40% of their time they can use to see more patients.
Schedule a Demo